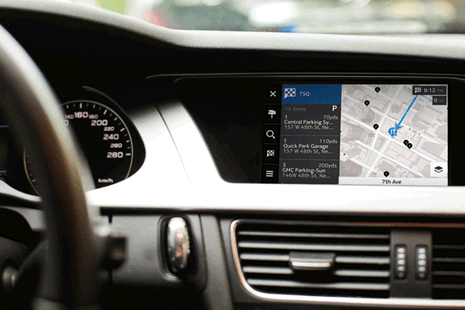 Cars are becoming more clever by the day.  Head-up displays, 3G connected satellite navigation systems, Bluetooth connectivity and even self driving vehicles.
As with our smartphones, we are demanding more and more from our vehicles and the onboard computers are only too happy to oblige.  From the PS3 like graphics within the Nissan GTR to BMW's iDrive system, onboard computers are getting more and more sophisticated.
Not many however have separate apps that can connect your phone to your car and give you infinitesimal detail about the status of your automobile.
There is one however……
Here.
Here is a complete connected driving system that combines HERE Auto, HERE Auto Cloud, HERE auto companion and HERE traffic and is due to be demonstrated at the International Motor Show in Frankfurt from September 10th.
HERE Auto is the first embedded in-car navigation experience that delivers the right map at the right moment with and without a data connection. Drivers can get turn by turn voice guided navigation in 95 countries and 2D, 3D and satellite map views including street level imagery. In the future, car makers will be able toeasily extend the HERE Auto experience using a software development kit (SDK) to create entertainment and other applications, such as in the areas of music and social networking. HERE Auto is already integrated in Continental's next generation Open Infotainment Platform. HERE is also working with partners such as Magneti Marelli and others to bring HERE Auto to the market in the coming months.

HERE AutoCloud provides drivers with always-on access to several dynamic services such as real-time traffic updates, helping drivers avoid congested areas, road closures or blockages that occur en route. Drivers can also get recommendations on places to eat, parking spots, information on where to charge an electric vehicle or where to find the most inexpensive fuel.

HERE Auto Companion, a customizable mobile and web application, keeps drivers connected outside of the car allowing them to synchronize their favorite places and routes across their devices so that they won't need to re-enter their route when they get in the driver's seat. Car makers can tap assets from the existing HERE suite such as walking navigation, public transit routes and even indoor venue maps to build custom mobile applications. Drivers could use the app to remotely find their car with their device using LiveSight augmented reality technology and check the car's vital stats such as fuel levels and tire pressure.

HERE Traffic has been radically improved by "Halo," our new engine that processes data quickly and accurately. Every month we're collecting ever greater numbers of high-quality data, such as probe points and sensor information to deliver real-time information such as weather, traffic congestion, road construction and other factors that affect a drive. With our new Traffic product drivers get improved travel time estimates, so they can better plan their routes and quickly re-route on the go.
The part that appeals most to me here is the Auto companion with its ability to locate your vehicle, remotely lock / unlock, turn on the air-con and check all the sensors within your vehicle.
Truly self driving cars may well be a while away yet but smarter cars appear to be just on the horizon!
More information can be found here.