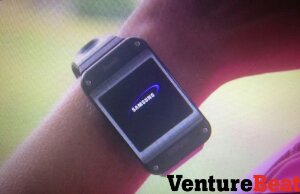 Venture Beat have leaked pictures of a prototype of Samsung's upcoming Galaxy Gear smart watch.
Leaked specs for the watch is said to be about 3-inches diagonally, with an OLED display and a 4MP camera and speakers built into the strap.
On the function side, the watch is said to come preloaded with health and fitness applications, which will connect with your Galaxy smartphone (and possibly all Android phones) to be a companion device rather than a stand alone solution. Also included are social integration apps like Twitter and Facebook, and the ability to initiate calls from the watch itself.
Smart watches are nothing new. Motorola has tried and apparently given up (for now) with their Motoactv series, Sony has released several models with limited success, and the Pebble is enjoying a limited, but enthusiastic, user base from fans of wearable tech, and after waiting twice as long as others here at Coolsmartphone I've finally got my Pebble and I love it….
All will be clear come 4th Sept.
Source Venture Beat