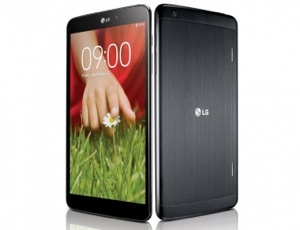 LG this morning has announced the already sort-of announced G Pad 8.3 Android tablet. It'll be formally introduced this (next) week at the IFA conference in Berlin.
The G Pad has 8.3-inch display at 1920×1200 resolution (for 273 pixels per inch). That's a little larger than our current favorite, the 2013 Nexus 7, but with a slightly lower pixels per inch — the new Nexus 7 is at 323 ppi.
Powered by a Snapdragon 600 processor at 1.7 GHz, with the nominal 2GB of RAM thrown in. It's running Android 4.2.2 out of the box, and has a few of the features we're liking the look of using the companion LG G2 smartphone — namely Knock On (for turning on the display without using the power button), Slide Aside and QSlide. It's got a 4,600 mAh battery powering things.
The LG G2 a companion phone for a reason. The G Pad 8.3 will truly pair with it. When you receive a call or message on the phone, it can also appear at the same time on the paired tablet, as part of the QPair app. Same goes for notes. And this feature won't be exclusive to LG devices — it'll work on other Android phones and tablets running Jely Bean.
The G Pad 8.3 will be available in white or black. It'll hit North America, Europe and Asia later this year, starting in the fourth quarter.
It looks like Berlin next week is going to be a busy week !
Below is the full press release from LG ..