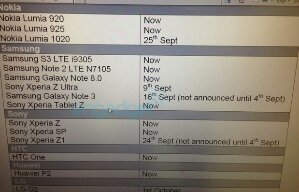 The Galaxy Note 3 is rumoured to make its debut at Samsung's IFA 2013 presentation, next week Sep 4th and a leaked carrier inventory system screen shows us Samsung doesn't have much longer to announce the device.
The above image leaked by Engadget, is purportedly from carrier Three UK and shows the upcoming releases for a few different devices including the Galaxy Note 3 – 16th September – and Sony Xperia Z1 (aka "Honami") – 24th September.
We can't be sure that the release dates will be these exact days for all carriers and regions, but given that we dive right into IFA next week and a major UK carrier is ready to sell the phones quickly thereafter, we have to assume they'll be on sale quickly.
Source Engadget