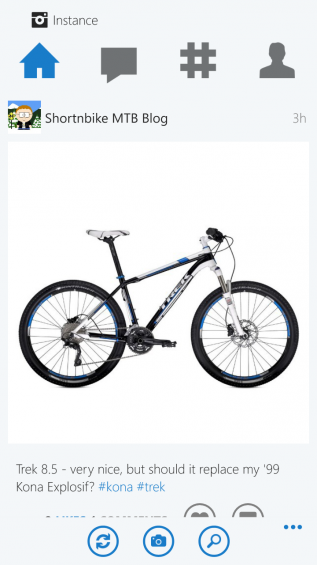 Popular Instagram client for Windows Phone Instance has had the beta of v2 released.
Instance was the first Instagram app for Windows Phone to allow uploads and registrations, and is a very good Instagram app. V2 has seen the whole interface overhauled, and very nice it looks too. It has a very clean "Modern/Metro" look to it, which looks great and is very responsive so far (even in beta).


There is still no tilt/shift depth of field effect, but other than that it's not missing anything compared to the official Instagram app, but it looks much cleaner now in my opinion, and is a pleasure to use. It's actually one of the nicest looking apps I've seen in general.
It also has cross posting to Pinterest as a new feature, as well as sharing to Facebook, Twitter, Tumbr, Flikr and Foursquare. Pretty comprehensive.

No date on when v2 will hit the Marketplace, but this is the first step and it deserves to be popular when it is released.
Alternatively if you can't wait that long (like me!), then get in contact with the developer Daniel Gary and he'll pop you on the beta program.
Link – Daniel Gary