Sit back, close your eyes and let your mind wonder.  Wonder into the far reaches of your mind and think about your dream phone.
Feeling totally relaxed?  Good because HTC are about to announce the handset of your dreams, fantasies and wishes all rolled into one.
Bring on the HTC Butterfly S – Hello Kitty Edition.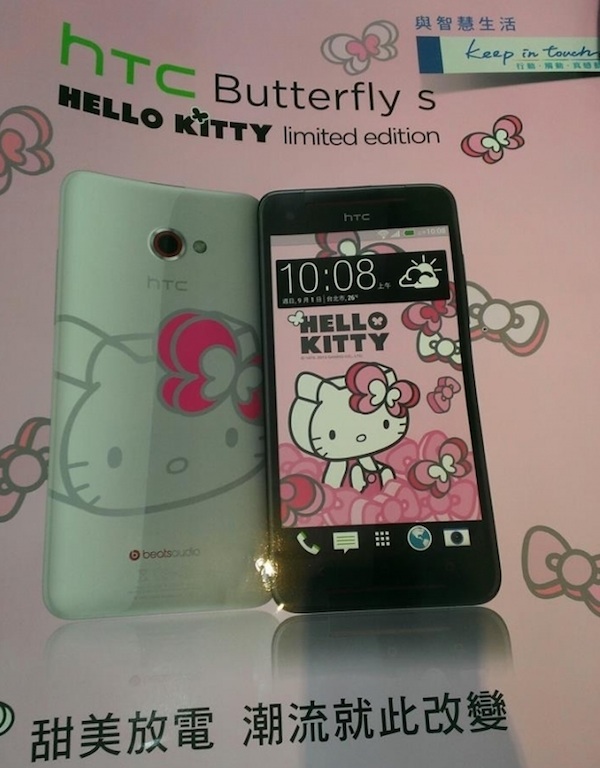 Put the date into your diary's for September 2nd is going to be the day that the mobile world is transformed.  Forget cut price Nexus phones, forget the possible new iPhone, bin your HTC One.  This is going to rock your world.
The HTC Butterfly Hello Kitty Limited Edition will be launched sporting a 1.9 GHz quad-core Qualcomm Snapdragon 600 processor and 2 GB of RAM.  A 5″ 1080p screen shows off the best Hello Kitty wallpaper and there is a 4MP camera to take those all important snaps of your kitty's.
A microSD card slot and a massive 3200mAh battery are also onboard as is Beats audio.
The launch of the Hello Kitty phone is due to take place in Taiwan on 2nd September and bearing in mind that the phenomenon is much bigger in the far east than here in Europe or the US, we are not too sure if the device will make it over to our shores.
One thing is certain however.  Looking at the pretty back cover and the Hello Kitty styling one Coolsmartphone editor may well just abandon his Oppo and fly to Taiwan to buy one!!
*The author accepts no responsibility for the misreading of sarcasm in this article.