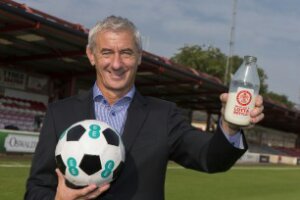 Tomorrow Voda and O2 will begin their 4G race for coverage, but EE grabbed a massive head-start and have now managed to cover 100 towns and cities with their LTE juice. Now, if you were EE and two big competitors were about to launch their 4G networks tomorrow, what would you do?
PR photoshoot? Big press release? Try to steal the limelight?
Yep, that'll do it.
The company have marked the event by taking photos of Ian Rush holding some milk in Accrington – the 100th town. I really won't go into it but it's a reference to an old advert for milk where a kid says, "Accrington Stanley? Who are they?"
Five other towns are getting the enhanced 4G, with several of my stomping grounds now receiving double speed 4G. Sutton Coldfield (home of the TV transmitters and the place where we first tested 4G), Sunderland, Walsall (oright bab?!), West Bromwich and Wolverhampton (known as Wuuuuulver-amptun locally) are getting even faster connectivity.
Other areas getting 4G this month include Ashford, Bicester, Colchester, Guildford, Milton Keynes, Redhill, Sevenoaks, Royal Tunbridge Wells and Woking, taking the number of towns and cities covered to 105.
What? You don't remember the advert? Well, here it is then…
https://www.youtube.com/watch?v=CgYP1d5nN2o&feature=youtube_gdata_player