Keeping the kids quiet with a smartphone or a tablet is becoming a growing trend.  One problem with doing this however is handing over a device that can cost over £500 to a child is simply asking for trouble.  Fragility of screens, dirty hands and experimentation are not a great mix and lasting damage can be inflicted by said offspring which makes Samsungs latest offering all the more appealing.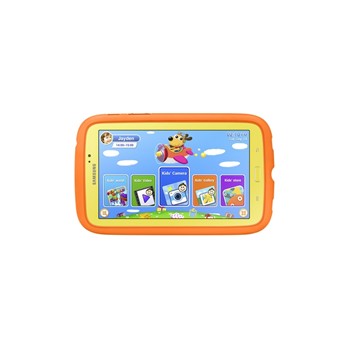 Step forward the Galaxy Tab 3 for Kids.
Powered by a 1.2GHz processor with 1 GB ram and 8GB internal memory, the garishly coloured Tab 3 has a 1024×600 7″ WSVGA TFT display and runs Android 4.1
There is a 3MP rear camera and a 1.3MP front camera, access to Samsungs Kids apps and all of the usual Google gubbins.
Bluetooth 3.0, Wi-Fi a/b/g/n and a 4000 mAh battery are all present as is a microSD slot that supports cards with up to 32GB capacity.
A Kids Case featuring a child-friendly grip and multiple stand options will also be available for the Samsung Galaxy Tab 3 Kids. The case also comes equipped with an easy-to-grip C Pen, providing fun drawing capabilities without the possibility of leaving marks on other objects.
Another inclusion is an option to set times for use, this allows parents to restrict the time spent on the device and the only way that more will be allowed is by the inputting of a password into the lock screen when the allotted time is up.
UK availability will be announced in due course as the device launches in Korea initially followed by China, Europe and the US.