Chrome for Android has pretty much become "the" go to web browser for me, I barely ever use any other browser. Google have another version of Chrome as well, in the beta test version you can test out the latest and sometimes experimental features. The latest update has added some rather unique features.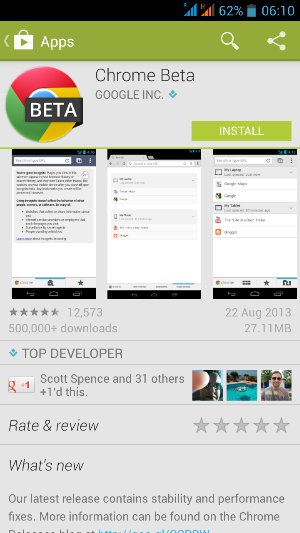 Chrome Beta for Android Update
The Chrome team is excited to announce the promotion of Chrome 30 to the Beta channel for Android. Chrome 30.0.1599.17, which will be available in Google Play over the next few hours, contains a number of new features, fixes, and improvements, including:
Search by image: Long press on any image and select the option to search Google for content related to that image
Easy access to tab switcher: Drag down from the toolbar to enter tab switcher
Draggable menu: Simply drag your finger to select the menu item you need
Side swipe on toolbar to switch tabs: You can now switch tabs by swiping left or right on the toolbar. To avoid accidental interaction with page content, we have disabled tab switching using side swipe on page content area
Easy zoom gesture: Zoom into your preferred magnification on any desktop web site by double tapping on the page and swiping your finger up-down without lifting it
WebGL: A JavaScript API for rendering interactive 3D graphics and 2D graphics has been enabled by default
Device Motion: Web developers can access device acceleration and rotation rates via the device motion part of Device Orientation API
Media Source Extension support: A JavaScript API that enables use cases such as adaptive streaming and time-shifting live streams
As is to be expected there are some problems with the heta version. Here are the known issues:
263870: History search textbox disappears when search term is deleted.
275778: Text becomes duplicated after inserting & removing a line break within a word
261822: Partial white flashes and background border issues when tap-to-zoom
266572: Flickering on HTC1
If you want to try it out head over to the link below.
Google Play Store Link – Chrome beta