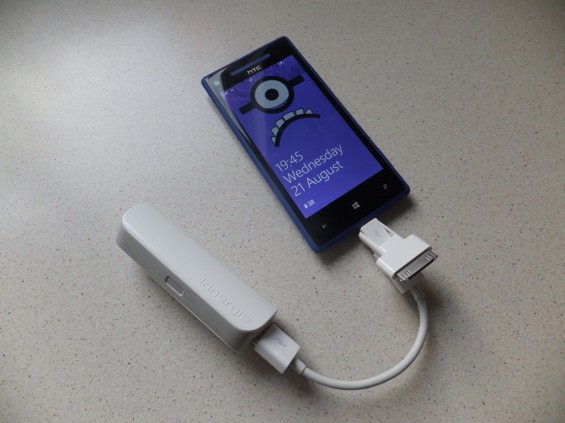 I've become a bit of a battery pack convert recently, choosing to charge up wherever I am and not worrying about where the nearest power socket is.
I recently purchased one of those huge 13000 mAh battery packs which is fine when you can carry a large weighty thing around. I thought I'd like something a bit smaller, for those times when you've only got small pockets available, a tiny handbag or it would be deemed socially unacceptable to be in possession of a giant battery pack (all regular occurrences in my life).
So onto my review for the Innergie PocketCell, it is a 3000mAh battery pack and it is tiny. Here are the good and bad points.
Good Points
Lightweight

2.1A output

Multi tipped cable

It's white
Bad Points
Only 3000mAh

Doesn't indicate charging on the pack itself

Can't be charged and also charge something else simultaneously
Design
The Innergie PocketCell is a nice little white thing, with the Micro USB input on one end and the normal USB output on the other end. One side has the power button and a set of indicator lights. Overall the design is nice and thanks to its size and weight you can slip it into a pocket or a small bag relatively easy.
In Use
In use the Innergie PocketCell is really easy to use you basically just plug the supplied cable into the PocketCell and then pick which tip to plug into your device, you plug it in and then hit the power button. The power indicators flash to indicate that you've turned it on and it starts to charge. At this point I'd quite like my power pack to tell me at a glance that it is doing something, when using the PocketCell you have to rely on the device being charged to show whether it's being charged.
As the PocketCell outputs 2.1A it can charge phones or tablets, it charges my phones quite quickly also. But as it is only 3000 mAh you get one charge and then a little bit more if your lucky before the PocketCell needs charging again. For charging a large oversized phone or a tablet you're not even going to get that.
One slight problem was that I couldn't plug the PocketCell itself into charge and then at the same time charge a phone. Sometimes I find myself with only one charger and this use case raises it's head.
Conclusion
Overall I liked the Innergie PocketCell, it has a nice design and works well, with only a few quirks that annoyed me slightly. I had to keep reminding myself that the main selling point here is the portability. It is designed to be small and portable, to be shoved into a handbag or pocket for times when carrying a huge high capacity battery pack isn't possible.
One last thing is that for about £50 the PocketCell seems a little pricey.
For more info and to purchase the Innergie PocketCell head over to the Innergie website
Innergie PocketCell 3000mAh battery pack - Review
Design - 8
Functionality - 7.5
Price - 6
7.2
A great handy little battery pack with a flexible cable, although total capacity isn't enormous. This isn't about capacity though it's about portability.