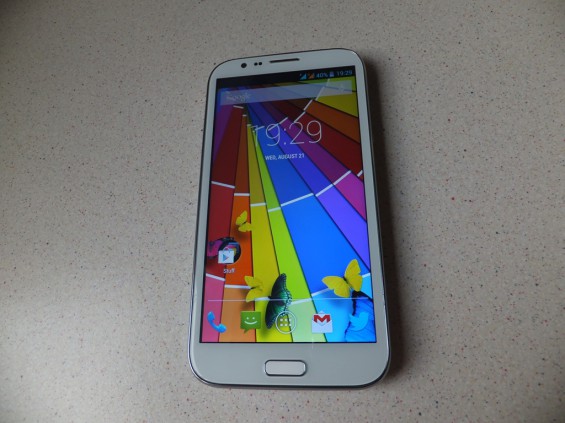 I've always been a fan of large oversized phones and also dual SIM phones, so imagine what I was like when a large white device with dual SIM slots arrived on my desk. I opened it up and I did a double take, I was hit with a sense of dèjá vu. It is basically a Galaxy Note II, on the outside anyway.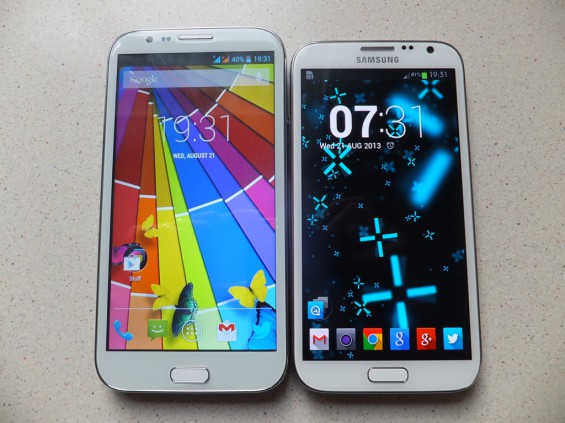 GOCLEVER are a company that have a selection of tablets and phones in their current range, the 570q is their top of the range device. I've got one for the next few weeks and here are my initial impressions. Starting with my good and bad points.
Good Points
Nice size

Stylus

Dual SIM

Micro SD

Android 4.2

It comes with a clear TPU case in the box
Bad Points
Galaxy Note II clone

Quite plasticy

Full size SIMs

Screen viewing angles a little off

Peculiar internal memory partitioning that makes the already small storage seem worse
Design
The design of the GOCLEVER 570q is basically the same as the Galaxy Note II. With a few differences, first of all the 570q is bigger and thicker. The front facing camera and sensors are on the opposite side and the microphone is also on the opposite side.
Take a look at these photos for more of an idea.
Hardware
The spec on the GOCLEVER 570q is pretty mid range. Take a look below.
Display – 5.7" 1280×720 IPS LCD multi-touch
CPU – MTK6589 1.2GHz (Cortex A7) Quad Core
GPU – SGX544 (4core)
Android 4.2
RAM – 1GB DDR2
ROM – 4GB eMMC
Wi-Fi (802.11 b/g/n)
GSM 850MHZ/900MHZ/1800MHZ/1900MHZ // UMTS 900MHZ/2100MHZ HSPA+ (AERO2)
MicroSD up to 32GB
Dual SIM
microUSB
3.5mm audio and mic jack
Front Camera – 0.3 Mpix
Rear Camera – 5.0 Mpix
Battery – 3200 mAh
Dimensions – 156x83x11 mm 212 g
Extras – 3.5" earphone, 5.0V adapter, USB cable, capacitive stylus, rubber sleeve, screen protector
The main highlight of the spec is the quad core CPU although it's only an A7 it's still reasonable. The dual SIM is also really handy as well.
The main problems are the internal memory and the screen. Viewing angles on the screen are a little off meaning you really need to look at the device straight on. The internal memory is 4GB which has been split in two, which seems to be a trend amongst manufacturers of budget phones.
They have two partitions that are as follows.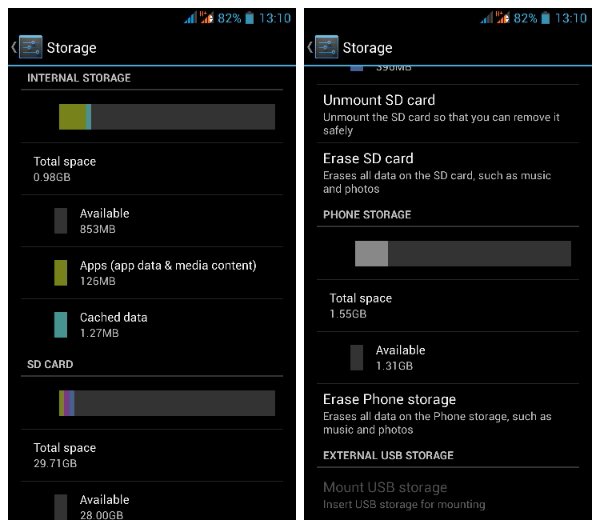 After installing app updates and my basic daily needed apps the internal memory looks like this.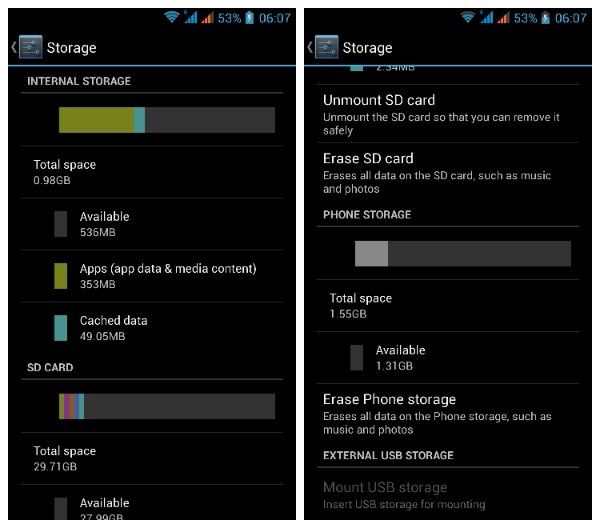 After a few weeks of use you will have filled this memory up. It really needs a firmware update to fix it or rooting and allowing apps to be fully stored on the SD card.
Lastly the 5MP camera seems okay, the interface looks exactly like the Acer Liquid E2 camera app, maybe it's a Mediatek thing, maybe it isn't.
Software
The GOCLEVER 570q runs Android 4.2 so it has fancy things like Lockscreen widgets and Google Now. GOCLEVER have installed a few apps for you out of the box, nothing of much use really, they've also installed a selection of Weather Widgets as well.
Take a look at the screenshots below.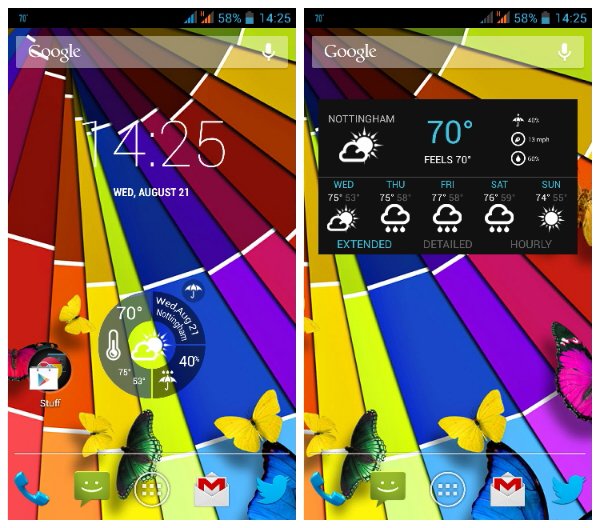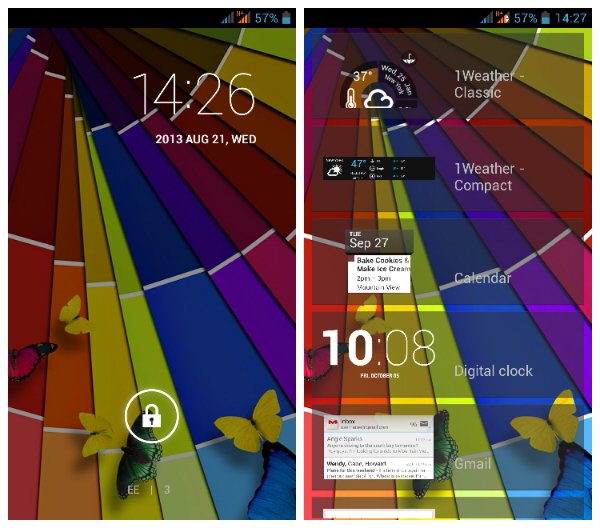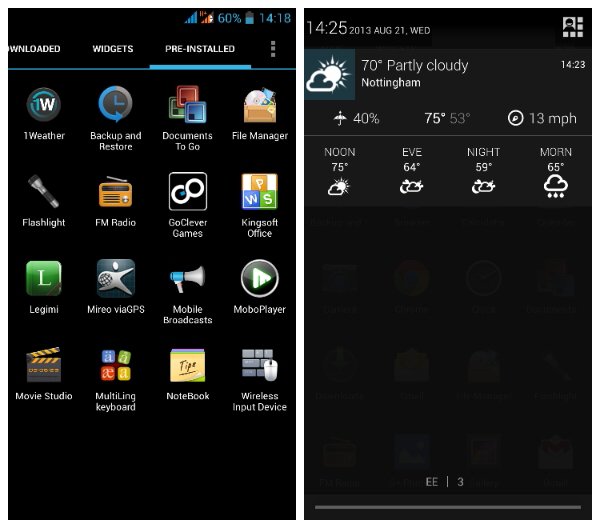 Initial Conclusion
As this is just my initial impressions I've not gone into too much detail with the GOCLEVER 570q, the battery hasn't even had one power cycle. What I will say is that the 570q is a reasonably priced large oversized phone if you're looking for a large budget device.
The bad points I may get used too, perhaps if I use my actual Galaxy Note II a bit less. If you want us to test anything out for the GOCLEVER 570q please leave a comment below and we'll include your test in the final review in a couple of weeks time.