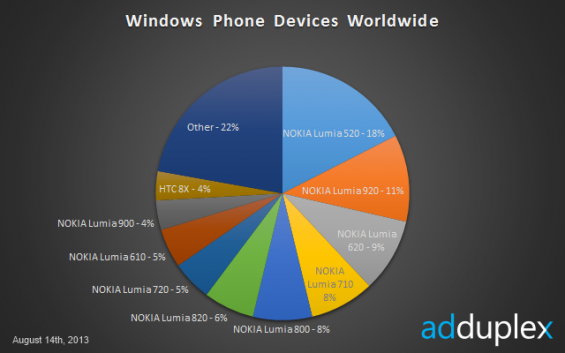 Windows Phone. Things are actually looking up. Grabbing share from BlackBerry, they now seem to be shifting a lot of budget handsets too. The Nokia Lumia 520 seems to be taking a big slice of the Windows Phone 8 pie right now, at least if the numbers from AdDuplex are anything to go by.
Amongst the Windows Phone 8 devices we also see the 920 consume 17%, the 620 has a 14% share and the 820 has 10%. What's perhaps unsurprising is that tiny share owned by other manufacturers. Samsung and HTC have tiny slices of the pie, showing just how many Windows Phone eggs are in the Nokia basket.
The Lumia 520 sits firmly in the budget category, and has an 18% share of all Windows Phone devices in use.
Get more details on the report here at AdDuplex