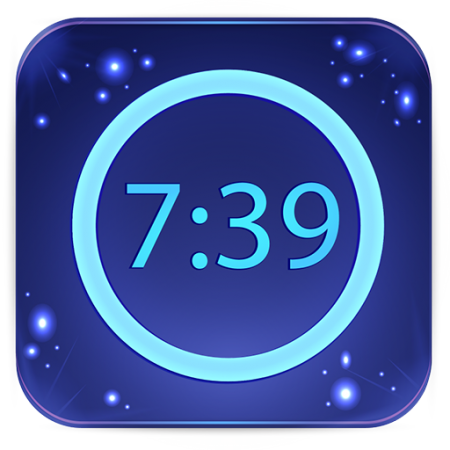 Good alarms are hard to find… If it doesn't work properly, or have the necessary functionality then no matter how pretty the app is, or whether the app conforms to the Holo style guide, its dead to me.
Enter Neon Alarm.
Good Points
It is pretty intuitive. A full copy of the app was requested, but unfortunately it wasn't forthcoming so this is review is just for the free version. [edit – the dev did in fact provide a full review copy. It rocks.] The first thing you see when you hit the app is the main alarm in the centre, and three more optional alarms. Switching an alarm on or off is as easy as pressing the alarm you want to activate.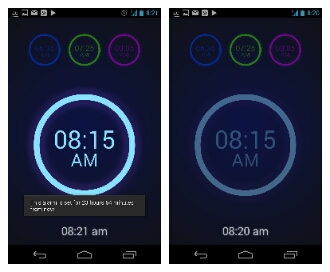 Bad Points
You can only have four alarms. That's it – take it or leave it. Although there is a snooze option, a normal working week will always involve getting up too early, and being slightly late for everything… unless of course, 'get ready', 'you really need to leave now', and 'go where you need to go, right now' options are available. It really would have been nice to have more alarms to be set. However most people just don't need that many alarms. Apparently the full alarm allows you to pick from any music app or service on your phone. Again if you go for the free version you won't have that option.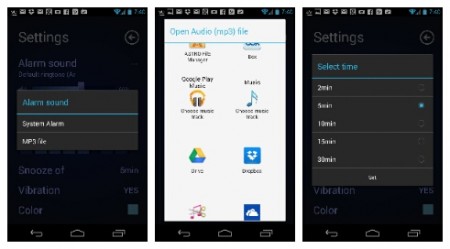 Design
It's a slick design, using the most of the screen space for ease of use, even with the fattest of fingers. There's always a main alarm in the centre. The 'neon' from the name refers to the easy-to-spot  coloured circles that surround each alarm.
In Use
When you touch an alarm to activate it, the coloured circle goes from a muted colour to bright. It should be garish, but it isn't. What it is, is easy to confirm whether the particular alarm is activated.
The settings option for each alarm is easily reachable by using a long press. There's a subtle vibration to confirm you're about to enter the settings mode.
There are 7 options to tweak your alarm. Obviously you get to choose the time of the alarm with a simple 24 hour/minutes combo. As well as turning it off and on, you can set the alarm tone, and the volume of the alarm. A Gentle option which ramps up the alarm, and a Vibrate option.
There's also an option to select days if you want repetitive alerts, for instance if you only want weekdays or for the same day every week. Useful for when you need to remember to pick up the child for ballet or football practise. Again, the free version only gives you the option of 2 minutes or half an hour. Personally those options are too restrictive, but again the paid version of the app is supposed to come to the rescue.
When the alarm goes off, you've got to ways to interact with the phone, another nice touch. For those who are up and aware from the first instant, you can open your peepers and use the slider at the bottom of the screen to either snooze or turn the alarm off. There are those of us who aren't so good at the beginning of any given day. We have the option to turn the ringing buzzing horror of an alarm off by flipping the phone over. If we need to turn it off, then you can pick the horrible noisy device up and shake it until it stops. Both of them are nice touches. You have to have enough presence of mind to shake the phone in the first place, if you're up for that much activity, you're awake.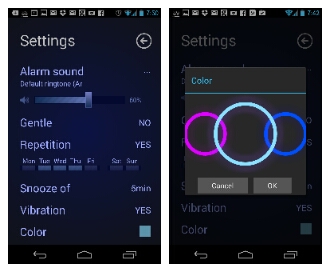 Conclusion
This is a really simple app. It doesn't do much more than create an alarm. But here's the kicker. It does that really well. It's easy to use, works well to confirm what's on and what isn't and if you buy the full app, is pretty configurable.
Everything else is just nit-picking. Setting the time takes longer than I'd like. Maybe using a circular clock would be a little bit easier, or an am/pm toggle. If the series of alarms could have cycled around so the next one in line was always the primary alarm, that would also be brilliant, but again this is all nit-picking.
Options to set more than four alarms would have made this the killer alarm app. It probably won't be a prerequisite for most people, but it will be for some. Everything else is not important enough to worry about.
[yframe url='http://www.youtube.com/watch?v=bKpsOVfRKr0′]
If you want to see if it in action, the developer has made a youtube video to run through the options and UI, but honestly – apart from the motion control, its easy enough to get the hang of in a jiffy. Try the free version to get a flavour of what it offers, or get the full version. Its currently £1.19.
Scores
Design - 8
Ease of use - 9
Functionality - 7
Value for money - 8