Are you using a Nokia Lumia 920 or 925 and jealous of all the camera functionality of the new Lumia 1020?
Well whilst you might not be able to replace the camera lens to get those 41 megapixels, the great news is you can now get the software used on the 1020 to get more control over your camera.
This app called Nokia Pro Cam has finally landed for owners of the 920 and 925 and you can now view the changes you are making in real-time to make sure you get that perfect picture.
There are lots of controls. You can change including ISO levels, do manual focus and set the shutter speed. Best of all, you can change the settings to have this as your new default camera app.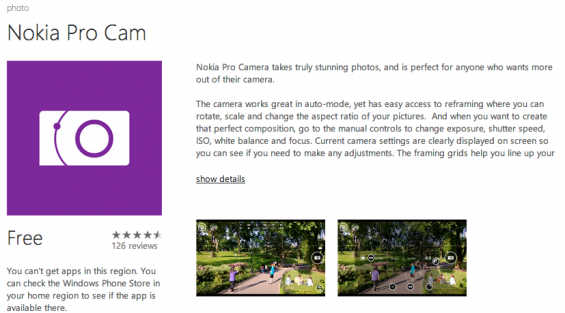 This app is free of charge and can be downloaded right now over on the Store.
Update – It seems that the app will only work on devices that have had the Amber & GDR2 update, so it looks like network models will have to sit tight for a bit.
Link: Windows Phone Store