Although O2 announced their 4G service first, Vodafone look to be first with the price plan information. We've got all the details below and you can sign up to a 4G plan as of today.
These are now live on the Vodafone website, over the phone and in store. If you have a 4G phone, these will give you access once the network launches on the 29th August in London.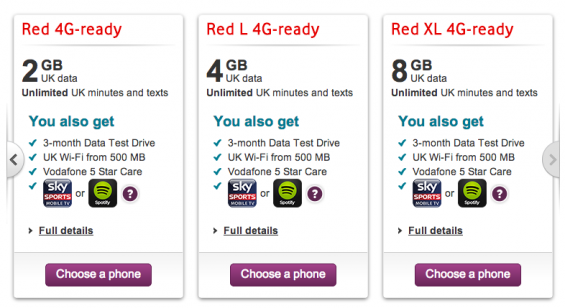 You can also pick between Spotify or Sky Sports depending on the plan you pick, plus this will also work over 3G.
Each step up costs £5 so, as an example a HTC One is free on £42 a month giving unlimited calls, texts and 2GB of internet.  Add £5 and you double to 4GB and another £5 gets you 8GB.
Additional data is also available with another 2GB costing £10. Therefore the maximum bundle is 10GB for a month
Unlike EE who just keep their roaming savings to a specific plan, Vodafone EuroTraveller is also available on ALL 4G plans, both SIM-only and handset. This lets you take your deal around Europe for £3 a day.
If you are looking for a new tablet then Vodafone stock the new Sony Xperia Z Tablet and have two 4G plans available for that also.
£37 a month gets you 4GB of data and an upfront price of £99 where as £42 a month gets you a massive 10GB of data and reduces the cost upfront to £49
There is a 4G dongle available as well as a MiFi. This will provide 4GB and 10GB allowances from £20 a month and £30 a month with small upfront costs.
These mobile broadband offers are also on SIM only with the same price per month but no upfront cost and only on 12 month plans
Check the Vodafone website for all the pricing and phone information.