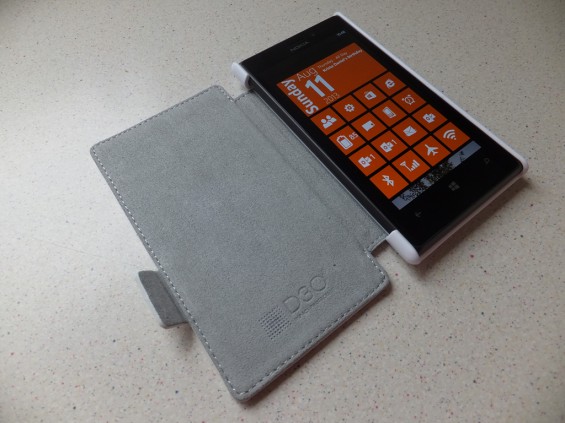 I've not been the biggest fan of flip cases over the years. They tend to fall into two brackets, either cheap nasty leather things or stupidly expensive and supposedly premium quality.
This isn't the best frame of mind to be in for this review.
Tech21 make a range of cases and this one is a flip case with a protective back and some shock absorbing material inside and here is my review. Starting with the good and bad points.
Good Points
Well made

Solid back protection

Magnetic flap

Protects the screen when closed
Bad Points
It's a flip case

Bit expensive
Design
The Tech21 Impact flip case is a well made and it has a relatively well thought out design. Often flip cases come with a flimsy plastic back section drafted onto a fake leather strip. The Tech21 flip case has a nice solid Polycarbonate back with cut outs for buttons, ports and sockets and it also has a magnetic lump. The backplate also has two strips of D30 shock absorption material, these run under the phone, I guess if you drop it they offer some shock absorption. The front piece of the case is a solid white leather cover with a nice soft grey material inside to protect the screen. The whole front piece is attached to the back down the left hand side of the case. The front cover also has little magnetic flap on it, I bet you can guess where that is going.
In Use
In use I expected to find the flip case annoying, if you've used a flip case before you probably know why. "The flap getting in the way of every single thing you ever try and do with the phone", is probably the main thing. In actual fact after a few days I got used to leaving it open when I would want to see notifications appear and I soon got used to folding the cover back to use the phone in one hand.
What I can't get over though is taking photos, a one handed photo is a real struggle, a two handed photo is easier but the cover still hangs down and actually gets in the way of you holding the phone steady. But as with everything you soon get used to the technique required.
The magnetic flap and lump clip together nicely and the magnet holds the cover in place well. You can still easily open the case one handed as well.
Conclusion
Overall I was quite surprised how I took to the flip case, I guess as it was white I warmed up to it the more I went on. The flip case cost £24.99 seems a bit steep though, yes it offers a good level of protection and yes it is well made and yes it will probably not fall apart in a few weeks like the eBay ones. But for £24.99 I'd want something a bit more.
The Tech21 Impact Flip case for the Nokia Lumia 925 is available here from MobileFun
Tech21 Impact flip case for the Nokia Lumia 925
Price - 5
Quality - 9
Functionality - 7
Protection - 8
7.3
Really well built case, a little bit fiddly at times thanks to the general flip case design and it's also a little bit expensive.