A few weeks back I got my hands on a Sony SBH-20 stereo Bluetooth headset, and after using it for a little while I decided to jot down my views onto paper (or rather type them onto a laptop).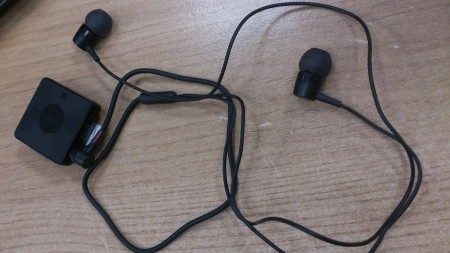 Key features:
Small unit with controls and built-in microphone
Stereo music playback
Works with any 3.5mm headphones
Design:
The SBH-20 is a neat little unit that reminds me of the ipod nano, available in a choice of colours; black, white, orange, turquoise and pink. The main controls – play/pause, skip forwards and backwards and the NFC contact point on the front and a rotatable silver clip on the back so you can attach it to your clothes or bag. On the top is the volume control, the right has the microUSB charging socket, covered by a little flap. The left has the power switch, an indicator light (for battery level and pairing mode) and a 3.5mm headphone jack.
Specs
Size: 33.3 x 33.3 x 12.3 mm
Weight: 12.3 grams
Bluetooth 3.0
Multipoint connectivity
NFC
Micro USB charger connector
3.5mm headphone connector
Controls for power, answer/call end, play/pause, next/previous track, and volume
Standby time: 200 hours (up to)
Talk time: 6 hours (up to)
Stream time: 6 hours
Battery: 110 mAh
Speaker type: 9.2mm dynamic, 16ohm
Ear coupling: Insert
Driver type: Dynamic
Driver size: 9.2 mm
Speaker frequency range: 20Hz .. 20000Hz
Connection:
The first phone I paired it up with was my Sony Xperia T and unsurprisingly that went through without a problem, just switched on NFC on the phone, tapped it against the the front of the device, and selected yes to pair it. I later connected it to my Nokia Lumia 820 and despite this having NFC as part of the tap to send software I couldn't get it to pair via NFC but paired fine with normal bluetooth options. The connection is stable on both and music plays happily with either, you can even use the controls to adjust the volume and skip tracks in Nokia Music which was a pleasant surprise.
Sound quality and headphones:
The headphones that come with it are the same style as the ones that came with my Xperia T, just without the microphone and on a much shorter cable (and without the microphone). The cord reaches down to my chest, but on a shorter person may reach a bit further. However there is nothing stopping you from using the SBH20 with any normal headphones, I've tried it with a set of Monster Purity headphones and they work fine. The headphones are comfortable and come with 3 different sizes buds for different ear sizes and will stay in your ears with normal movement but do bounce out when running.
Battery:
The quoted battery life is 6 hours, and I must say that although I didn't keep exact track of how long mine lasts but is normally around the 5-6 hour mark with a few hours standby when I forget to switch it off. The battery charges really quickly as well with the green light showing full charge appearing after an hour or so. When it is running low on charge you get warning tones at about 5 minute intervals and then after about 15 minutes more of music streaming the headset switches off.
The headset also supports voice calls which are clear, although given distance from the unit to your mouth it can be prone to picking up some background noise at times. As it is multipoint you can also have two phones connected at once, although obviously you can only stream music from one at a time.
I really like the unit and it has the advantage that I can hide my phone in a few layers to help protect it from the best/worst of the British weather.
Sony SBH20
Ease of use - 8
Battery - 7.5
Sound quality - 8.5
8
A neat bluetooth stereo headset with the flexibility to use your own headphones