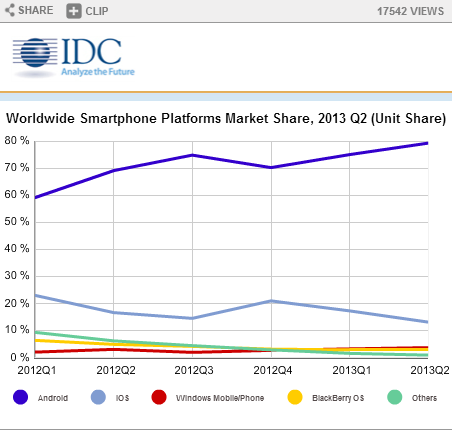 You'll see this news appearing all over the web today so I'll try and sum up the figures as briefly as possible. It's smartphone share day and, by the looks of the IDC figures, Android is still on the rise.
Android added a 73.5% volume gain and grabbed a 79.3% market share in Q2, but perhaps the big news is that Windows Phone has leapt forward. Shipments had already surpassed BlackBerry in Q1 and this has continued. The OS grabbed the highest year-on-year unit volume increase, with a 77.6% gain from Q2 2012 to Q2 2013. Yes, they're still small in the big scheme of things (and these figures still include Windows Mobile by the looks of it), but the numbers are encouraging.
Meanwhile the iOS share of the market is down to 13.2%. I'll say that again just in case you dropped your coffee – 13.2%. That means, with the 79.3% share owned by Android, that a mere 7.5% is "everything else", and Windows Phone holds a 3.7% share, which is roughly half the "everything else" category.
I'll leave you with one stat from the IDC figures. During the second quarter of 2013 Android was pushed out 187.4 million devices. That, my friends, is more than ALL OF THE SMARTPHONES (iOS, Windows Phone and Android) shipped during Q2 2012.
More details below or on IDC.com