The watch.  The humble timekeeper that has mostly been worn on the wrist for centuries.
We have gone from the simple watch with two hands to digital watches to watches with calculators built in and now to smartwatches.
It has been claimed that the smartwatch will be the next big thing and that it will be the biggest innovation since the launch of the iPad.
As with all technology, the major firms want a piece of the pie, Sony already have a smartwatch on the market and it seems that Samsung are looking to join them.
A recently filed patent application from Samsung shows several drawings demonstrating their take on the smartwatch with a flexible display and physical buttons.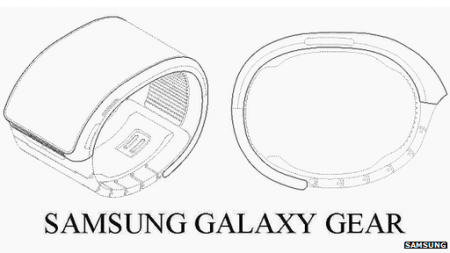 As you can see the device is looking to be part of the Samsung Galaxy Range and has been given the name Samsung Galaxy Gear.
Also shown are pictures of a physical power button as well as a speaker and patents have been filed for 3 different designs since the turn of the year.  The filings also show that the devices should provide access to the internet,  be able to make and receive phone calls, emails and texts and store personal information.
Patent applications do not of course mean real products and only time will tell exactly what if anything Samsung decide to release.