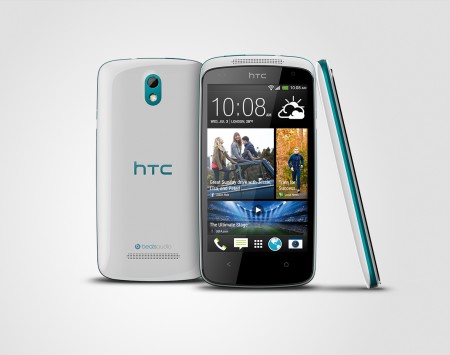 One of the problems that HTC have suffered from in the recent past is having too many handsets to choose from and thus the consumer doesn't know which one is best for them.
Well, HTC have clearly learned from the past and decided to release only one handset this year.  HTC have clearly learned nothing from this experience because hot on the heels of the HTC One mini comes the HTC Desire 500.
The Desire 500 is a mid range device  featuring a 1.2GHz quad-core processor, HTC BlinkFeed and Video Highlights.
Available in Lacquer Black and Glacier Blue, the 500 is " designed for those who demand a superior mobile experience at an affordable price"
Peter Chou, CEO of HTC said
The Desire range has become renowned for bringing a premium mobile experience to the mass market.  This particular model, the Desire 500, is no different. It is perfect for people who are always-on-the-go, it enables powerful multitasking and live-streaming of important and interesting information, and it boasts an excellent camera and that bring your important moments to life.
More detail then, there is an 8 MP camera paired with a 1.6MP front facing camera, a 4.3″ display, and support for microSD cards of up to 64GB.  No details of the version of Android that it is packing have been revealed but it is safe to say that it will be 4.2.2
Available in the UK from later this month, pricing details are yet to be announced.
Full images and the press release are below.