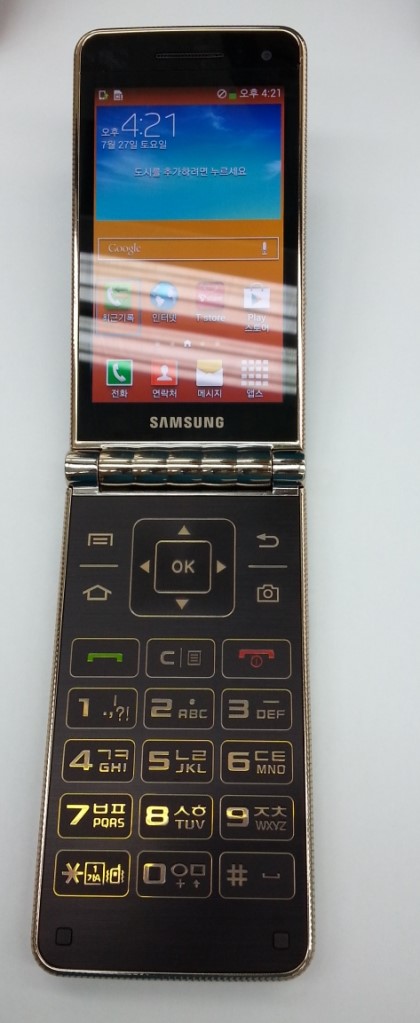 Clamshell phones used to be the coolest handsets on the block. That "snap" as it closes after the end of a call is still the most emotive way to hang up on someone. However, touchscreens are the the best way to interact with a phone these days.
What if you want the touch and the snap though? Surely that would be the best phone ever? Well, Samsung thought that too and have created the Galaxy Folder (or SHV-E400K/SHV-400S).
These leaked photos show a clamshell handset with two touchscreens (one on the front and one inside) and a T9 number pad.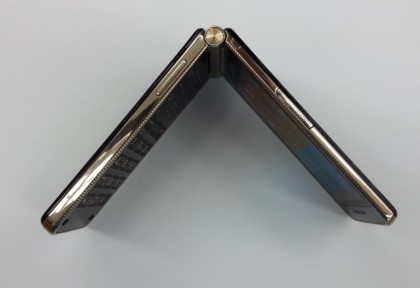 Specs were also leaked:
3.7 inch Amoled displays with 800×480 resolution
Snapdragon 400 Dual core 1.7Ghz
2GB RAM
1820mAh battery
LTE Support
Touch Screen
Android 4.2.2
Pretty impressive, eh? I was expecting something about as powerful as a USB desk fan.
What can you do with this much power? Fans of UK casino sites listed at https://casinopilot.co.uk/ can take advantage of the hardware features of the Samsung Galaxy Folder to play slot machines, blackjack or any casino game via this powerful new device.
I can guarantee that the power of the Snapdragon 400 is more than enough to run UK casino sites from a web browser of your choice as well as through dedicated casino apps. Casino games programmed in either HTML or Flash will be a walk in the park for this baby.
The capacitive touch screen of the Galaxy Folder will allow you to play at your favourite casino websites in a smooth and seamless fashion. You will be able to spin reels and deal cards with just a tap of your fingers.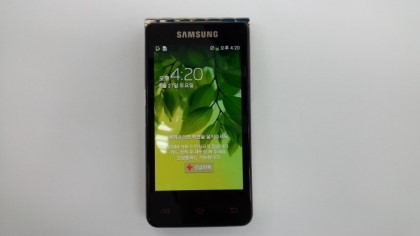 The device will be launched in the Korean market, but I can't see it getting much further than that. It's a shame, because I like unusual and quirky technology, but I can't see it selling well in the UK.
Would you buy a dual touchscreen flip phone? Let us know in the comments section below.
Source – @techkiddy