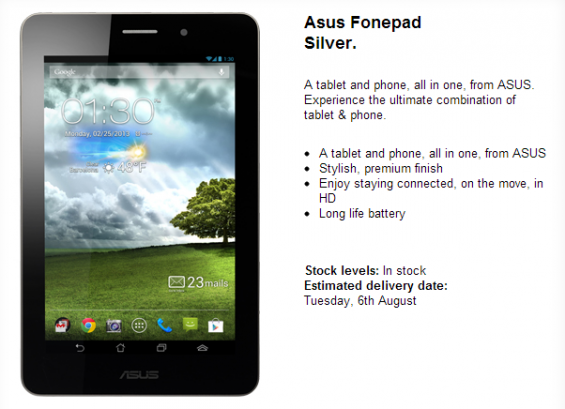 Happy Saturday people. Meet the silver Asus Fonepad. It's now available on Three for £12.53 per month for 1GB of data (and a £29.99 up-front charge on a 24 month contract) or a rolling monthly £7.50 deal which gives you the same data with a £179 up-front cost.
This is a 7″ tablet-come-phone with a 1.2GHz CPU, 7″ 1280×800 pixel screen, 16GB storage, microSD card slot, 3G, WiFi and a 4270 mAh battery.
If you do go ahead and buy it for the £179 then you're free to spend £5 per month on the 250MB plan or £15 for the 10GB plan in addition to the 1GB plan we mentioned up top.
Interested? Have a nose on their site.