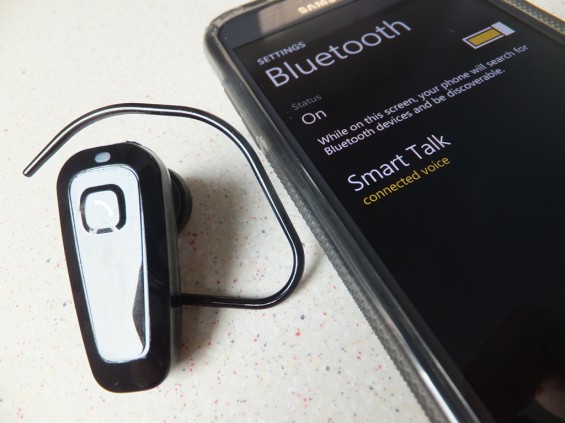 Bluetooth headsets are something I've avoided for years, choosing to use wired headphones bundled in the box with the phone instead. I've taken this route mainly because of ease of use, you just plug them in and you're done. In the past I've found Bluetooth headsets have been fiddly to set up, the OS never quite works how you'd like and invariably the headset itself is awkward to fit or uncomfortable.
So with my hopes set high, I set about using the Tiny Talk headset for a few weeks and to see whether things had changed in the mobile world.
Good Points
Small
Cheap
Basic functionality
Bad Points
Basic build quality
Flimsy ear clip
My ears seem to be the wrong shape
Basic sound quality
No noise cancelling
Design
The main selling point about the Tiny Talk nano headset is that it is small, tiny you could say. Made of a black shiny plastic, with one main button (MFB) to perform most functions and also a small volume rocker. The ear clips rotates around the ear piece meaning that you can wear it either your left or right ear.
Technical Specifications:
Bluetooth specification: v2.0 + EDR (Enhanced Data Rate)
Bluetooth supported profiles: Headset, Hands-free
Small and Light (at 6.4g only) in-ear type Bluetooth headset
Operation Range: Up to 10 metres
Frequency Range: 2.402 – 2.4835Ghz
Battery: Rechargeable 3.7V Li-polymer battery
Talk time: Up to 4 hours
Standby time: Up to 100 hours
Charging time: Within 3 hours
Dimensions (main body): 33mm x 16mm x 9.5mm
Weight: 6.4 grams
What's In the Box?
1 x Tiny Talk Nano Bluetooth Headset
1 x Ear loop
1 x USB charging cable
1 x User manual
In Use
In use the nano headset was a fiddly little blighter, try as I might I couldn't just quickly clip it onto my ear, in the past my brand of choice was Jabra and I used to be able to just slot the ear piece onto my ear, with this one I had to use a mirror, even then I was never sure if it was upside down or my ears are abnormal. I settled for this way in the end, which felt like the clip was upside down, but it stayed put.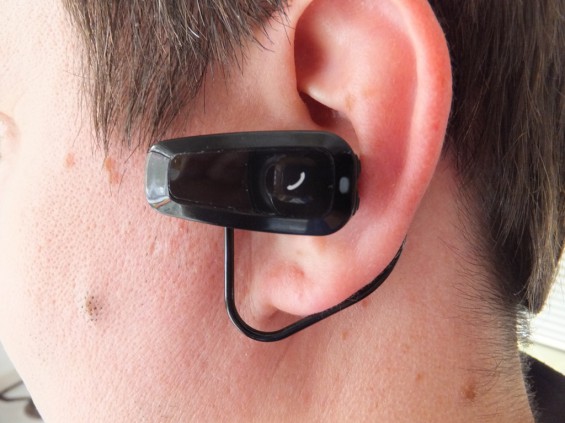 Pairing was a doddle, using either my Galaxy Note II or my Ativ S, both just did what they should. It was easiest to make the call on the handset and have the headset just take over when the call connects. There is a last number redial function that worked as you'd expect. There is a also a voice activation mode, which is a struggle to trigger. Here is an excerpt from the instructions as to what you're meant to do.
In STANDBY MODE, press and hold MFB (Multifunction Button) for around 3-5 seconds. Say the voice tag as soon as you hear a short beep . (Ensure your phone supports voice dialling and you have recorded the voice tag into your phone)
Once or twice I did trigger this feature, but in real life you end up either disconnecting it, turning it off or triggering "last number redial", with Windows Phone it did actually work. After a bit of practice I got to grips with how long to hold the button for. With Android voice dialling exists as a feature of Google Now but that doesn't connect through to the main button on the headset.
Sound quality wasn't the best, with people I rang saying there was background noise present, I found them to sound not the best either. Calls took a few seconds to be routed as well, as the headset had to work out what was happening, send the instructions via Bluetooth to the phone and then the phone had to comply.
Charging the headset is done by a small cable the has a standard USB type A connector on one end and a small connector at the other end. You basically have to plug it into a PC, an external battery pack or a power adapter.
Conclusion
In conclusion, I found the headset to be fiddly to use, this would be handy if you only need a headset for one or two uses a month or something like that, being made to use it every day would drive me round the bend. Oh and I'd probably break the flimsy plastic ear clip as well. But it is a cheap way to stay legal whilst driving. The Tiny Talk headset is available from Mobilefun for £9.99 here.