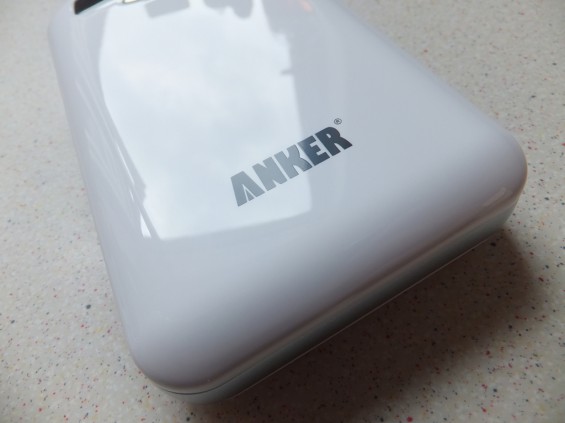 I've dabbled with external battery packs before, you know the sort. An unbranded 3000 mAh battery that refuses to work after a few weeks.
It was after my wife and her friends went to a festival down south a few weeks ago and all of their phones died at some point during the day, that I got thinking.
What would have been ideal for them would have been a large capacity battery with several USB ports and it should be easy to use. A quick poke around on Amazon and I had ordered this rather splendid looking Anker battery pack.
Key Features
Monster capacity (13000mAh) delivers 6+ charges to most smartphones or 80% of a full cycle to iPad 3 / 4. In terms of power, this is the biggest, baddest battery in the Anker mobile line.
Super-fast charge output (5V / 3A) though dual USB ports (5V / 2A and 5V / 1A) allow for simultaneous charging of your iPad, iPhone, Android, and more at high speed.
Premium lithium-ion battery ensures quality, supplying 500+ recharge cycles over a lifetime. Use a 1.5A adapter or over for fast charging.
Smooth, ivory varnish allows you to power up in style, while 4 status LEDs keep you informed of remaining capacity. Built-in flashlight for dark or low-light environments.
Package includes: 1 Anker® Astro E4 External Battery, 4 connective adapters for smartphones, 1 USB cable, instruction manual.
Good Points
Huge battery capacity

Two USB ports
High power 2A USB port for tablet charging
Flashlight
Bad Points
Heavy

Slow to charge main unit back to full capacity
It turns itself on in bags or pockets
Design
Anker have took a huge chunk of battery pack and tried their hardest to make it look nice, initially you'd think it was a chunky external hard drive or something.
The front and the back of the battery pack are made of white smooth gloss plastic, which is a little slippy, there is also a silver band running around the edge, this silver band has the two USB outputs and also the Micro USB charging socket.
The only other parts of interest are the power gauge and the big button on the top. oh and how could I forget the flashlight that lives between the two USB outlets.
In use
At 13000 mAh the battery pack can charge a selection of phones and tablets several times, over the last few weeks I've got into the habit of not actually charging my phones using a mains outlet and just charging using the Anker battery pack at my desk, being able to charge two phones at once is really useful.
You basically wire the device that needs charging into the battery pack and hit the button on the top, it starts to charge it and the lights on the top indicate how much charge is left. The lights will also indicate how much charge there is whilst you charge the battery pack as well.
The handy thing about the Anker battery pack is that the two USB outlets are rated differently, one at 2A for large items like tablets and the other at 1A for smaller devices like phones. In the box you get a selection of charging heads to use with the supplied cable. So most devices will be chargeable using either their own cable or the supplied one.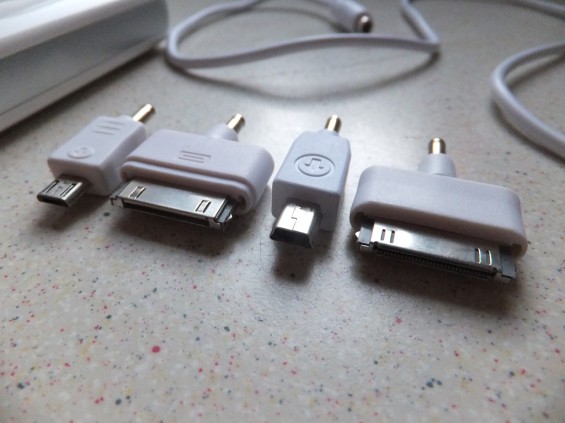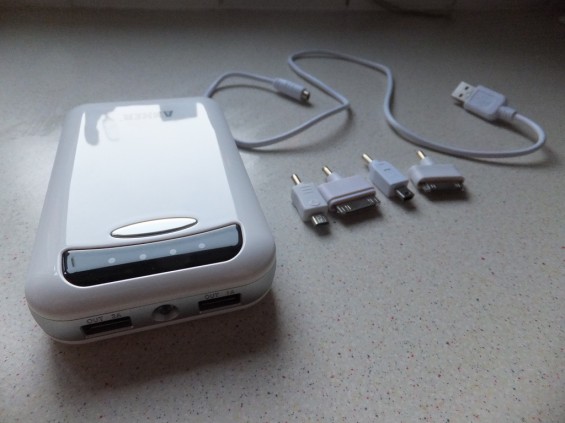 As regards charging times etc, the Anker did seem slightly slower to charge devices than a normal wall outlet of the same rating and it took an age to charge the unit itself. However I was impressed with its ability to charge almost anything anywhere. Being able to charge my phones on the fly proved to be quite handy, I found myself using the Anker instead of trying to find a plug socket.
Conclusion
Overall the Anker E4 Astro was an interesting piece of kit. Having such a large charge stored in the battery pack means that you cab get three or four charges out of it before it gives up, which means that you'll not lose charge on your two day festival/camping holiday/breakdown in the woods.
I bought this one from Amazon for £29.99 which I thought was a decent price for such a nice package.