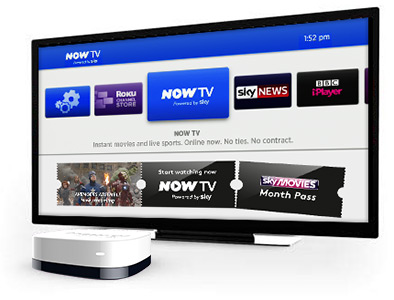 Sky (yes Sky!) have just entered the hardware streamer market with the launch of the Now TV box this morning. As the name implies, it's a standalone box that can stream Now TV as well as other services such as iPlayer, 5 On Demand, Sky News, BBC News and Spotify among others. The box itself is simply a rebranded Roku, but for the bargain price of £10. Yes, that's not a typo. If you thought Chromecast was cheap, this is literally an impulse buy (and available in the UK!).
On the downside though, unlike an actual Roku it can't play Netflix for obvious, if annoying, competitive reasons. Now TV is also on the expensive end of the streaming movie service market at £15 a month (after 3 months at £8.99) and £9.99 for a one day Sky Sports Pass. However the movies are generally much newer than on Netflix or LoveFilm, if not in the same HD quality.
What's not quite clear at this time is whether or not the free services will require a paid Now TV account. We'll provide an update when we know more, but this could potentially put a big downer on things.
Take a look for yourself here.