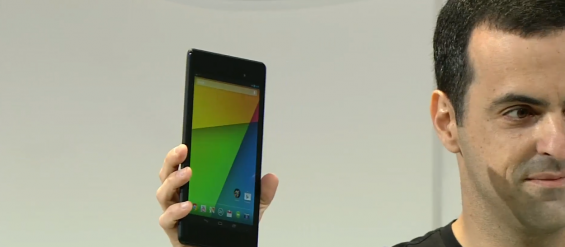 This afternoon Google have announced the new updated Nexus 7. The original Nexus 7 spearheaded a surge in smaller Android tablets,  most people I know at some point owned a Nexus 7 and it remains to be seen if the new Nexus 7 will be successful.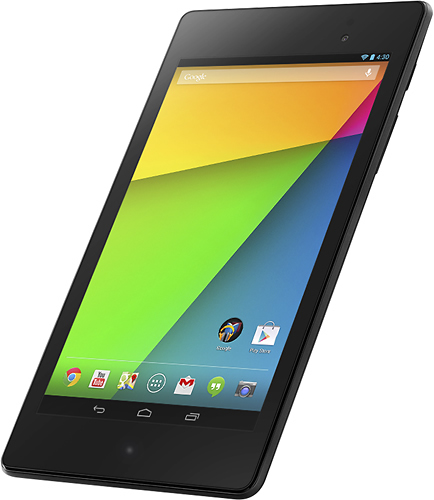 Spec wise the new Nexus is pretty decent, the lack of a Tegra chip this time speaks volumes.
– Dimensions – Height 0.3″ Width 7.9″ Depth 4.5″
– Weight 11.2 oz.
– Qualcomm Snapdragon Processor Speed 1.5GHz
– Battery Type 1-cell lithium-polymer
– Display High-definition LCD 1920 x 1200 IPS screen
– 10-finger capacitive touch screen with IPS technology,
– 300 cd/m² brightness, 178° viewing angles,
– Anti fingerprint technology
– Scratch-resistant glass
– RAM 2GB
– Internal memory 16GB or 32GB
– Graphics Adreno 320
– Front Facing Webcam 1.2MP
– Digital Camera Pixels 5.0MP
– Operating System Android 4.3 Jelly Bean
– 4G LTE
As expected the new Nexus 7 brings with it the latest version of Android, which is 4.3. Which is more of an iterative update as nothing has massively changed, aside from a new DRM API which allows 1080p streaming via services such as Netflix.
Some key features to the new Nexus 7 and Android 4.3 are as follows:
Multi-user with restricted profiles – Multi-user has been redeveloped, with restrictions being able to be placed on applications.

Bluetooth 4 Low Energy – Bluetooth 4 has come to the new Nexus, with support for heart rate monitors and the like.
OpenGL ES3.0 – This should allow for better graphics on the device, and the demonstration they showed off was stunning.
The new Nexus 7 will be available for $229 (16GB WiFi), $269 (32GB WiFi) and $349 (32GB LTE). The WiFi version will go on sale in-store and online next Tuesday, with the LTE version being made available in the coming weeks. The device will initially launch in the US, the UK, Japan, Canada, Germany, France, South Korea, Spain and Australia. We will no doubt be buying many of these between the team here, so we'll definitely be doing a large review of the Nexus.