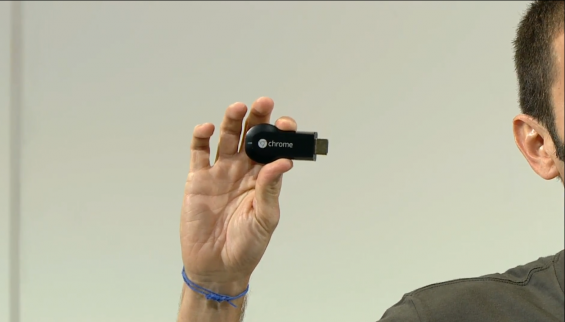 The Google Chromecast was just unveiled at today's Google event. Running a modified version of Chrome OS, It allows users to stream from the cloud directly to a TV with support for 1080p and 5.1 surround sound.
Notably, the Chromecast allows users to control the stream from any device – be it a Nexus 7, a laptop, a Chromebook or an iPhone. Even better, playback syncs across devices, so you can take content with you regardless of the device that initiated the streaming request. This gives the Chromecast a distinct advantage over the Apple TV, as the latter only supports Apple devices natively.
The Chromecast supports a variety of services. Netflix, YouTube, Google Play Music and Pandora were all demoed. The Chrome team are also testing tab casting, where the contents of a web browser tab can be displayed on the television. This demo did have some noticable time lag between laptop and TV, which is perhaps why it is still in beta, although it has to be said the content did stream smoothly when it got to the Chromecast.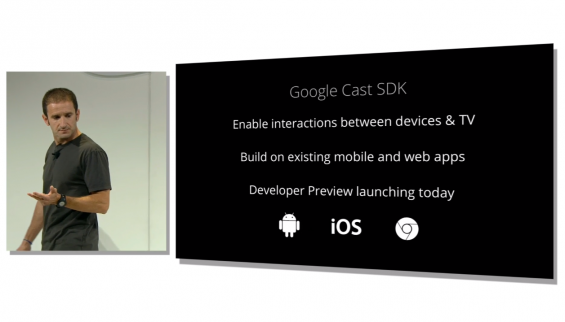 The Google Cast SDK for iOS, Android and Chrome will be made available today, and the company hopes that it will used to develop many apps for the platform.
The Chromecast will cost $35 and will be available for order from this afternoon from Amazon.com, Best Buy and Google Play with 3 months of Netflix available free. No word on UK available as of yet, however.