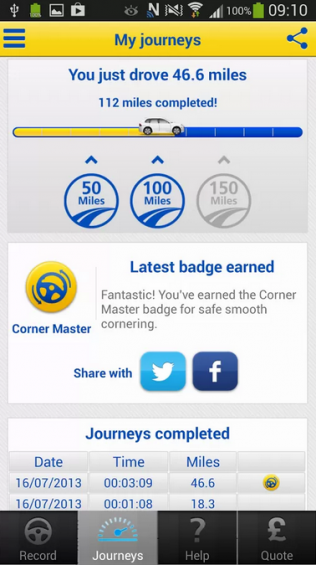 There I was last night, watching the second-by-second Royal baby news (short version, she's had a boy), and an advert popped up for Aviva insurance. Nothing new there. It features Paul Whitehouse being utterly unfunny, but at least he's not Barry Scott (BANG! And the dirt is gone!)
However, the advert was showing a new type of car insurance. Car insurance that gets cheaper depending on your style of driving.
How does Aviva find out if your driving is good? Well, there's an app that'll decide how good your driving is. Available for iPhone and Android it can save you up to 20% on your car insurance and works by tracking every journey you make via GPS.
You earn "skills badges" as you drive and it'll give you more badges the further you go. After 200 miles it'll give you a driving score, and if you get a 10 then you're a super-safe driver and can expect to pay less. If, however, your GPS trace shows you going from Birmingham to London in one hour flat and constantly accelerating or braking hard, you'll probably not get any discount.