We do get some slightly strange requests here at Coolsmartphone. BeeWi have sent us a car. Yes, an actual car.
There was a bit of a fight to review it.
Sadly it wasn't a full-sized motor but a remote controlled Mini Cooper Coupé.
Now, while we wait for the lovely people at Mini to send us a full-size Coupé, this is the BeeWi Bluetooth-controlled car, which you control with your smartphone.
I know. You've all used radio controlled ones. They'll probably be a bit cheaper than the £39.99 asking price for this but, if you're honest, you'll probably lose the controller unit at some point.

The obvious benefit straight off is the fact that less batteries are needed. The car itself needs three AA batteries and your phone then becomes the controller, so no extra batteries needed there.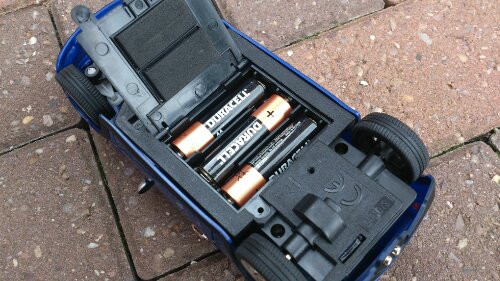 After putting the batteries in you'll then need to download the controller app that guides your car around. We're testing the Android version here so I grabbed the BeeWi Control Pad app. Next up, you need to connect via Bluetooth. To do that you'll need to power on the car and then use your Bluetooth pairing screen on your handset to find and pair the car. This is a simple enough process and only needs to be done once.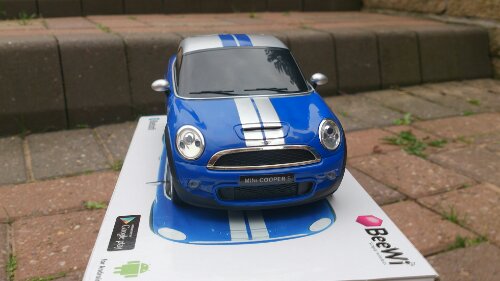 After you've paired it, you then need to open the app and choose the car you've purchased. BeeWi have a fantastic range of gadgets to control via Bluetooth so you need to choose the one you've got. Once you've done that you're good to go, and you can control the car straight away. The controls are all self-explanatory and you can see them below..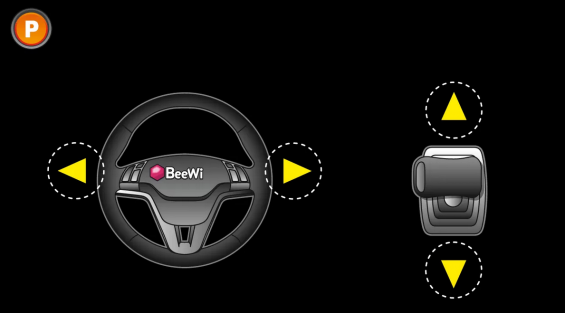 The software, the car or something in-between seems to be a little buggy though, and this is something I've seen in the comments too. For some reason it tends to disconnect every now and then, usually when I crash the car too. Sure, it reconnects again shortly after, but this can be a little annoying. The app also lets you use the motion sensors in your phone, so you can merely rotate and tilt your smartphone or tablet to control your Mini if you wish. We used the regular on-screen buttons in our video below to show it on action better.
The car itself is a faithful and pretty perfect replica of the full Mini. It's lightweight and strong enough to put up with the dents and scratches that'll no doubt occur. It has no aerial and the range is about 10-15 metres or so and you get about 3 hours play time. We tested it in the video below…
I should say, the people from BeeWi have a range of other toys – or should I say "man gadgets". One which caught my eye was this WiFi camera buggy, which lets you record and watch live images across as you drive around. Loving that.
Overall, apart from the disconnects, this was epic fun. It performed well and drove around very quickly indeed. The three AA batteries performed well and the car was both nimble and nippy. Great fun. The iOS and Android / Windows Phone version is available to buy, and you can check the BeeWi site for more.