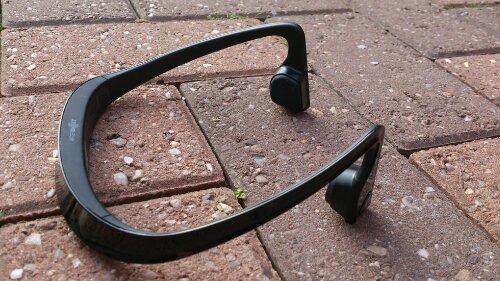 Headphones. Everyone has them. Whether it's the subtle white in-ear ones or those trendy over-the-ear jobbies that people sport on the way to work, it shows our love of music or podcasts.
There's a problem with these though.
Unless you only have one ear plugged in, you're going to miss the soothing sound of bird song, rain or trees blowing in the wind. Oh… and traffic. That too. Walking the streets, whether it be in a city or relatively quiet town, gets a lot more dangerous if you're blasting the Beastie Boys down your lugholes and you miss the sound of that approaching truck, so these new headphones will hopefully keep you safe.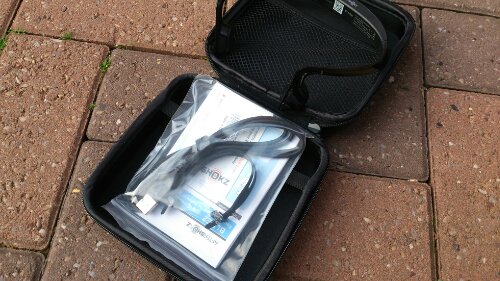 The AfterShokz Bluez headphones wrap around the back of your head and sit just in front of your ears. Why? Well, these don't transmit sound directly into your ears, they actually use military bone conduction technology to push the music down your cheekbones and into your ears. Yes, I know. Weird, but it does mean that your ears are free and you can still hear the outside world, so great if you're in the office and want stereo sound but also want to hear your colleagues.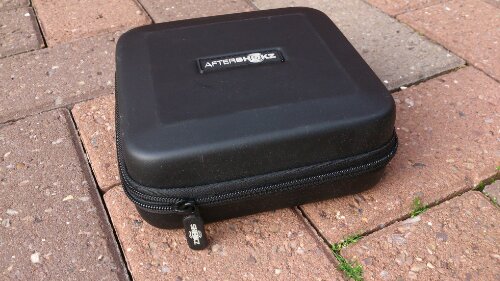 The headphones arrive in a tough and good-looking pouch. In here there's a rubber band for attaching to the headphones to get the right fitment, the charging cable, some instructions and the headphones themselves.
Getting started is really easy. The back of the headphones houses the power switch, volume control and a charging point (which is the standard microUSB).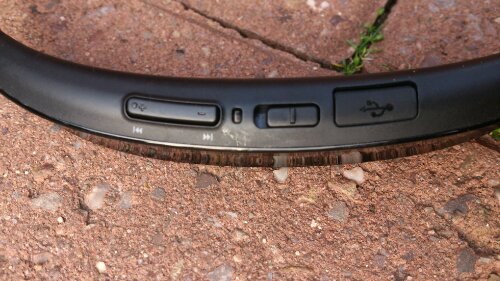 On the side of the headphones there's another two buttons – on the right there's a play / pause button and on the left is a call button. You can probably guess what these do but I'll mention it here just so you're aware – press and hold that call button and you can use the voice recognition in your handset to call people or, if you've got an incoming call, it'll answer it. You then use the in-built microphone which sits on the left ear-piece to talk to your caller.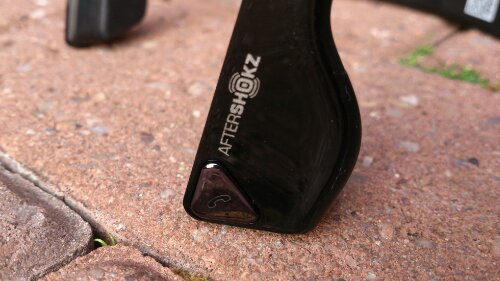 Getting paired up is easy enough. Out of the box it'll start looking for devices to pair with when you turn it on, but you can press and hold the Play button to start the pairing process.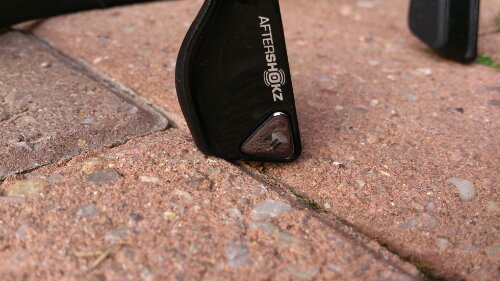 It'll take less than 3 hours to charge and should continue to play music for 6 hours.
The conduction pads are a soft rubber and plant themselves just in front of your ears. You use the tension band around the back of your head to get the position right. It's sweat proof, water resistant and ideal for using at the gym.
In use, I have to say, this was a little strange. Yes, you can still hear the outside world and yes, the sound does vibrate your cheekbones before travelling into your ears, but I struggled to see why you couldn't use normal in-ear headphones with the sound turned slightly down. Then it hit me. No-one does that.
Personally I think that these are more suited to making and receiving calls on the go. Getting the call in double-mono was certainly a more involving experience and I could definitely pay more attention to the caller.
The sound can be heard by others I'd you crank it up full but it's no worse than regular in-ear headphones on full blast.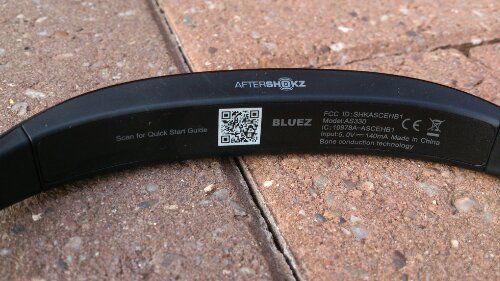 The bone-conduction technology is an interesting part of this and there's information on the AfterShockz website that tells you more about it..
Sound waves can also get to the inner ear through direct vibration of the bones in the head which carry the vibrations directly to the inner ear, bypassing the eardrums. This is how a person hears his or her own voice, and also how whales hear.
I've now got mental images of whales with headphones on for some reason, but I have to say that the bone-conduction thing works quite well. It can feel a little strange, especially when you feel your face vibrating a little, but it definitely does put that music into your head. I don't think it'll give you that totally immersive experience that in-ear headphones do, but the quality is good even if it's not quite as loud.
Personally, if you do want to use this for music, I'd say that the sound quality is decent enough but it's not going to replace the high-end over-the-ear headphones or those moments when you want to blow your ear-drums off as it doesn't quite go loud enough to do that. That said, if you're doing exercise and sweating quite a bit this will definitely tick a big box as the in-ear headphones always tend to slip out of your ears.
You can get these for £99.95 and I'd definitely recommend them to people who are hopping in and out of various cars, doing sport or need to hear the environment around them. They look cool and they work well.