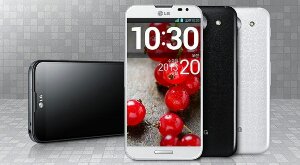 While the Optimus G Pro (we mentioned here) has been available since February in LG's home country of Korea, it has made a slow but steady march out to other countries around the world and is ready to reach a whole lot more in Q3.
LG is announcing today that it plans to make the Optimus G Pro available in 40 countries throughout the quarter across Europe, Latin America and the Middle East. The expanded launch builds on the apparent success of the handset in its initial launch regions of Asia and North America, where the 5.5-inch 1080p handset has sold well.
While it may seem like old news to many of us who have seen it on store shelves for some time, the device's specs are right on par with all of the highest-end handsets out there today. With a Snapdragon 600 processor, 2GB of RAM, high-quality 1080p display and 13MP camera.