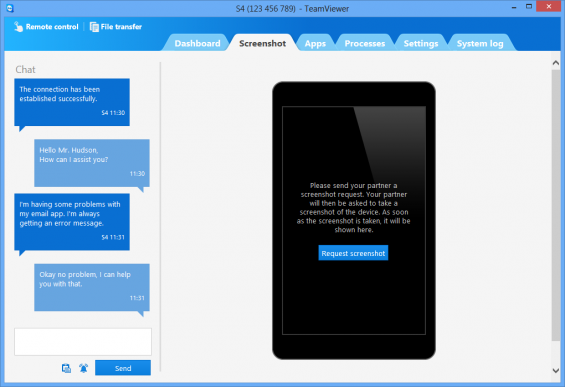 Morning you lovely people. Now. I get a lot of email. A … lot. Over the years one email keeps popping up and, unfortunately, I have to keep knocking it back because there wasn't a solution to the problem.
The problem?
Remotely controlling a smartphone. Remote support of a smartphone. How?
Now there's a solution from TeamViewer, or at least there will be tomorrow when it gets an official announcement. It's called TeamViewer QuickSupport and will let you remotely control your smartphone from any computer.
This will have a huge impact on businesses and IT staff who have to support Android and iPhone or iPads. Support staff can take real-time snapshots and get full access to device settings and system logs to diagnose problems.
In order to get it working you'll need to have TeamViewer 8 and an additional licence. The QuickSupport app then runs on Android or iOS but it looks like functionality depends on your operating system and the make of phone. For example, on Android the QuickSupport app will let you chat to users, remove apps, kill processes and transfer files, however the remote contol aspect is available only on Sony, Medion and Alcatel One Touch devices. Samsung, HTC, LG, Motorola and other devices don't seem to be on the list of remotely-controllable handsets.
On iPhones and iPads you can push customization profiles for setting up email, calendars and VPN connections. It'll also do chats, system log viewing, file transfers, screenshots and full access to screenshots.