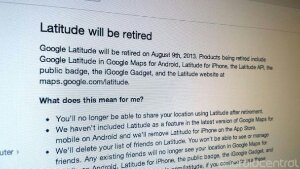 Alongside today's Google Maps for Android news, the company has confirmed that Latitude, its location-sharing service, will be closing from Aug. 9.
The shutdown affects Latitude in its entirety — on the web, Android, iOs, through badges and the Latitude API.
Closure affects Latitude on Android, iOS, the web and Latitude API
Google's location-sharing focus is being shifted across to Google+, which already supports check-ins and social sharing of location data. For me I'm gutted I use Latitude a hell of a lot. Am I the only one?