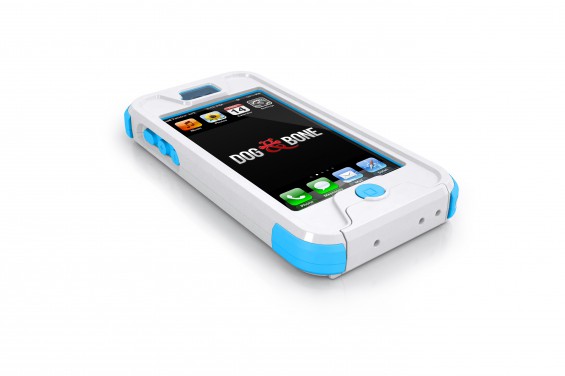 Coorrr… Topless and exposed. Yes, it's a phone case. This one is from a company called Dog and Bone cases, and it's apparently a world-first topless waterproof rugged mobile phone case with an exposed touch screen. There's even a patent pending on the waterproof technology that basically uses dual sealing beads running the full perimeter of the phone to ensure that you're protected against moisture even with your screen exposed. Clever stuff.
It's waterproof, shockproof, dirtproof and snowproof. You can buy the Wetsuit cover and have a nose around their site, but it's for the iPhone 5 only at the moment. That said, they do have other cases in their range for other handsets too.
Dog & Bone Founder and Director, Mr Lee Ranchod tells us that..
The patent pending mobile phone membrane system is a smart solution to the muchcomplained-about problem of touch screen sensitivity with front enclosed waterproof cases. Too often we have heard iPhone users complain they are re-typing letters or sending nonsensical text messages because the film covering their phone's screen is interfering.

What often happens is the film over the screen front creates a ripple effect, which not only looks less attractive, but can impact on the touch screen sensitivity of the phone.

WIth nothing impeding the front screen of the Dog& Bone Wetsuit case, users can enjoy a sleeker looking product and optimum touch screen sensitivity all the time for a long lasting time.
We've got a stack of pictures in the gallery below..