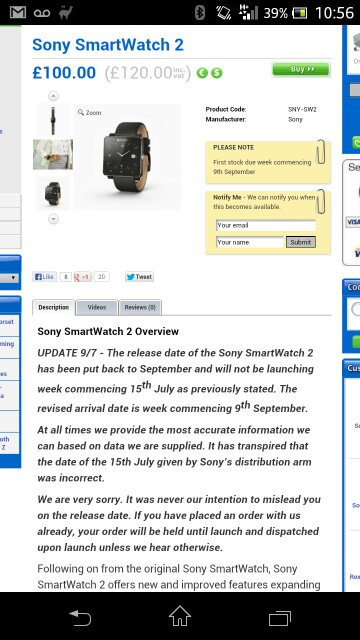 You knew that already? Yes maybe, but Clove have been taking orders for the Smartwatch 2 with an expected delivery date of July 15th.
Many of you placed your orders, but this morning the following email arrived from Clove Sales which slightly tweaks expectations..
We contact you today regarding your order for the Sony SmartWatch 2.

The release date of the Sony SmartWatch 2 has been put back to September and will not be launching week commencing 15th July as previously stated. The revised arrival date is week commencing 9th September.

At all times we provide the most accurate information we can based on data we are supplied.  It has transpired that the date of the 15th July given by Sony's distribution arm was incorrect.

We are very sorry. It was never our intention to mislead you on the release date. Your order will be held until launch and dispatched upon launch unless we hear otherwise.

The Clove Technology Sales Team.
So if you've ordered one, get your old Casio calculator watch out the cupboard again, because you're going to be using it that bit longer yet.
We recently carried a story and Clove stated that the watch would arrive next week, but this has now been updated.
The gadget will go for £120 when it eventually turns up in September. It has a 1.6″ 220 x 176 pixel screen, Bluetooth 3.0 and NFC for wireless connectivity. It can pair up with your phone to provide updates onto the watch.