The Sony Xperia Z, to the masses it has been eclipsed by the HTC One and the Samsung Galaxy S4, to me it is the next logical step in my hunt to find my ideal "next generation" device. By next generation I mean compared to my Galaxy Note II.
Over the past few months I've got my hands on both the HTC One and the Samsung Galaxy S4 and I've got a a bit of a taste for 1080p screens. Everything just seems sharper and clearer on these new fancy screens. So as the Xperia Z has a 1080p screen I just had to give it a go.
When the Xperia Z arrived I was surprised, surprised at really how well made and good looking a device it was. Design stands for a lot these days, you'll use your phone in public at some point and at that point someone will be judging you if you've got a funky old Alcatel or something. The Xperia Z really does look nice, the glass sections really give it a premium look and feel, once you've polished off the fingerprints anyway.
Check out the gallery of shots below.
In Use
In use the Xperia Z is a great device, it has adequate internal storage and also the option to expand with a MicroSD card.
Sony have installed a lot of software on the Xperia Z, not only do you have their launcher you also get a slew of their apps as well. In total there are 22 extra apps installed out of the box. These extra apps aren't all bad though the camera app, gallery app, dialler, music player are all really nicely designed apps, they don't really add much to the functionality but they look nice. Talking of nice looking software, the Xperia Z has all of the themes that the other Xperias have so you can change the core colouring of the Android UI.



During my time with the Xperia Z the Android 4.2.2 update appeared OTA, this gave it lockscreen widgets which meant you can add widgets to your lockscreen.
Storage wise the Xperia Z comes with about 11GB free out of the box and it also has a MicroSD slot, the MicroSD slot is probably best used for music and pictures. The sound quality with a decent pair of headphones is really really good. I'd be really happy to use this as my main music player.
A few other parts of the software impressed me, the notification area has customisable toggles. Yes it's been done before but it's nice to see another manufacturers take on it.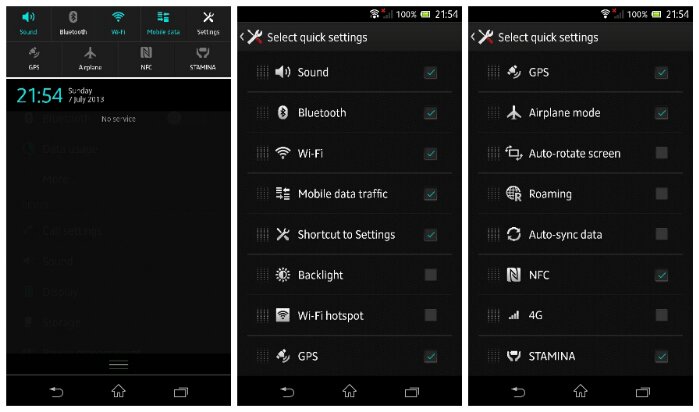 The launcher is quite functional as well, along with themes and widgets you can really make your device your own.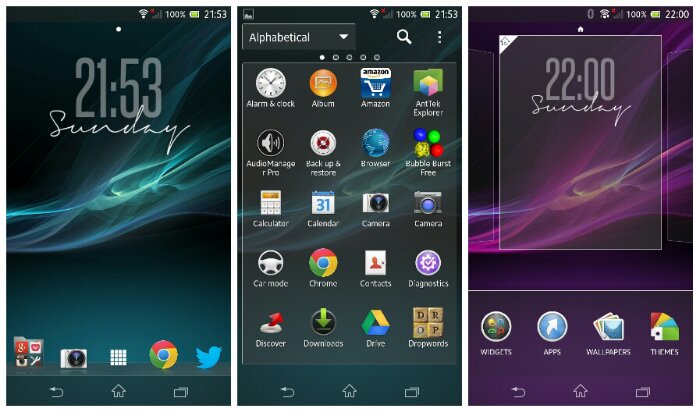 Camera
The camera is good, in the right conditions. I found it reacted badly to being pointed at the sun and some low light shots were a bit noisy. In decent light I got some really nice photos.
The camera software has allsorts of extra options, including HDR mode and some scenes and filters. The Xperia Z camera app has a mode called "Superior auto" which is like an intelligent mode setting that looks at what your attempting to photograph and adjusts various settings to suit. So if you're trying to take a photo of a flower or a dirty keyboard it will adjust to macro mode, it also adjusts for landscapes, night mode, documents, backlight, portrait mode and no doubt some other modes I've not found. It really is useful having the camera decide what's best, although there is still a normal mode that allows you to change everything yourself.
With a little bit of time spent getting used to the settings etc you can negate any initial problems with the camera with the auto mode. I really liked the camera in the end.
Waterproof
The whole waterproof and dustproof thing about the Xperia Z at first seemed like a great idea but it soon started to grate a little. Mainly down to the port covers.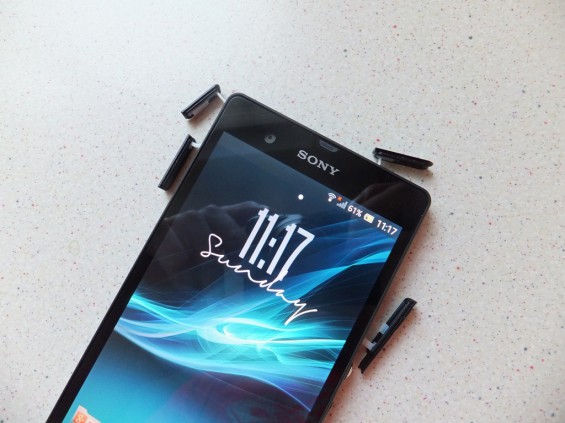 The port covers are necessary to charge the device, remove the SIM card or the Micro SD card or to just plug headphones in. Yes they are an essential part of the device but having to fiddle around each time you wanted to charge the device got quite annoying. If the Xperia Z had Qi wireless charging then it wouldn't be that much of a problem as you wouldn't need to undo the port cover. Put the Xperia Z in a case and it becomes nigh on impossible to open the port covers at all.
There is always a but!
The Xperia Z is a great phone…. But there is one thing that sort of puts a dampener on it and that's the screen. Straight on the screen is pretty good, it's really really and crisp and colourful thanks to the 1080p display. But look at it from any other angle and you're left wondering what's happening. If the screen is showing something white at the same time it's almost unreadable. It made leaving the phone on my desk and just switching it on now and again to check for emails quite difficult. As I had to pick the phone up and hold it straight on to my head.
Conclusion
The Xperia Z is a great phone, with great software, great hardware and a great design that is just lagging behind the competition thanks to a poor choice of screen. If I hadn't recently used the HTC One and Samsung Galaxy S4 I would probably not have noticed.
Lastly a big thanks to Vodafone for lending me the Xperia Z, you can get the Xperia Z from them here.