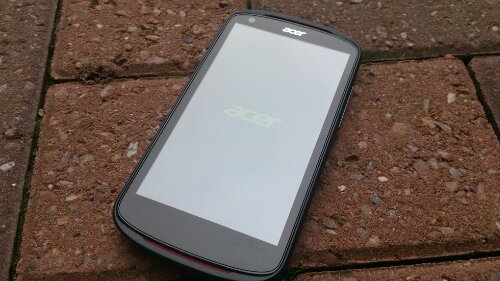 There's a lot being said about the new Acer Liquid E2 right now (which the boys at Expansys will be selling for a mere £179.99) but this is the earlier Acer Liquid E1 Duo. The "Duo" in the name is kinda revealing – this will accept two standard-sized SIM cards which you can switch between. It has a 4.5″ qHD (960×540 / pixel 245 ppi) display, dual-core CPU 1GHz and two speakers at the back.
As I type these are out of stock, but if you can get one expect to pay a little over £100. Inside it's powered by Android 4.1.1 and has 4 GB of storage with a microSD storage slot for another 32 GB. The rear camera is a 5 megapixel autofocus shooter with a VGA front cam. Bluetooth 3.0, WiFi, GPS, sensors and a 3.5mm audio port also feature.
The 1760mAh battery should give you up to 400 hours stand-by and up to 8 hours talk-time.

First impressions are pretty good. Acer seem to have created themselves a nippy handset which boots quickly and drops you into the OS without fuss. That OS, which is Android, is pretty un-touched and – apart from the odd Acer app – it's all fairly clean and fuss-free. Acer have added a "HD Channel" app which seems to show HD YouTube videos (presumably to show off the screen quality) and a "Moodagent", which creates a profile based on the music you listen to. There's a Cloud-based storage system and they've chucked in the rather quick Swype keyboard, which lets you type out words on your keyboard in double-quick time.

The Chrome browser is here, and that means you'll have quick and well-formatted websites, even if you're looking at a "full" version of a site. It'll format paragraphs so you won't have to scroll side-ways all the time. It renders pages well and I didn't notice a great deal of slow-down when using it.
The Acer Music app helps to promote those twin rear speakers and sorts your music by Artist, Genres, Songs or Albums. It'll become your one-stop-shop for tunes and works very well indeed. There's a search system and you can create Playlists too.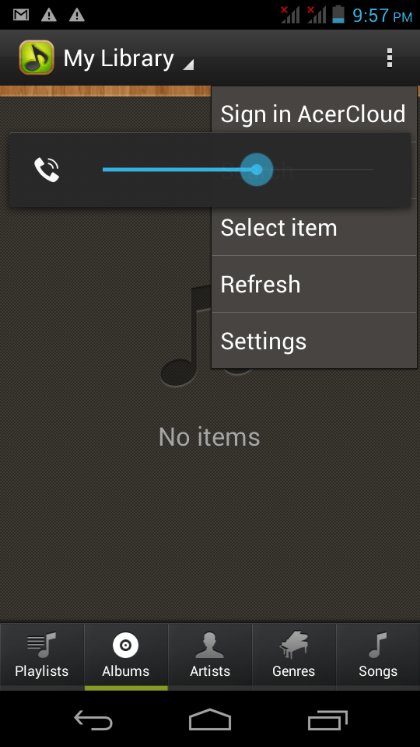 So, other apps of note. There's all the usual Google stuff – Google Mail, Play Music, Play Movies, Maps, Play Store, Play Books, Play Magazines, Google+ and you'll get all that clever contacts sync and your calendar – it's stored in the mighty Google cloud.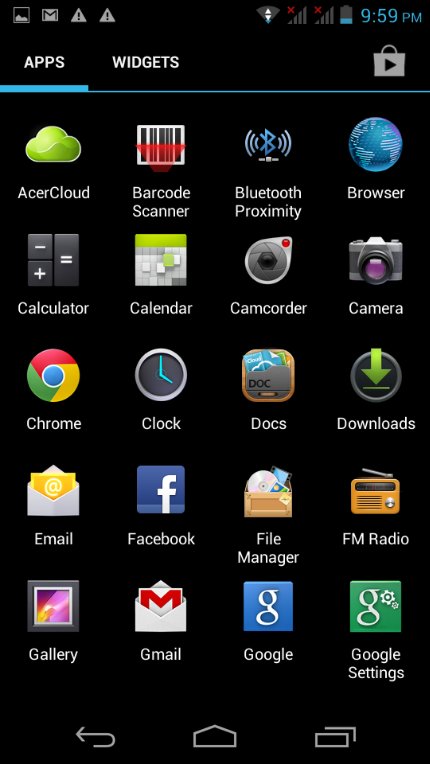 A Barcode Scanner, Document handling system, File Manager, FM Radio (you'll need your headphones for that), Facebook, Polaris Office (for editing and viewing Office documents that you may download), Navigation, Sound Recorder and Video / Photo viewing apps also feature.
They all operate swiftly enough and you can of course drag them onto the main screen and position them as you see fit (in folders too if you wish) or use widgets on one of the five main screens at the top of the handset.

This particular model has two SIM cards slots. They're the standard "full size" and the phone will magically grab the necessary settings when you insert one. If you put two in, you can select which SIM to use when making calls, texting or using data. You can also have it ask each time if you want.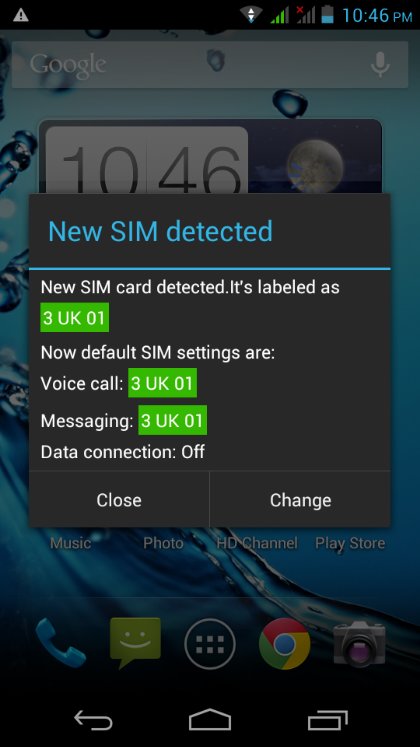 I've got to mention the speakers at this point, because the addition of the DTS Sound really does improve things. You can adjust the bass, treble and select from a range of present equalizer settings. It improves the sound coming out of the speakers quite a bit, and the sound was definitely a lot less tinny than most phones I've used.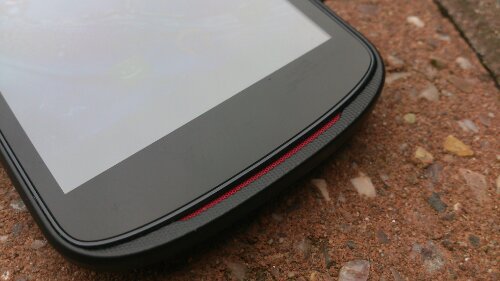 Outside
Looks-wise this does feel a little less robust than most phones.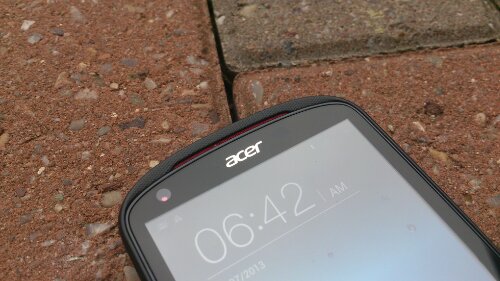 The red flared openings at the top and the bottom of the handset are a little "love it or hate it" and there's a little more frame around the screen than I'd like but, really, I'm picking at flies here.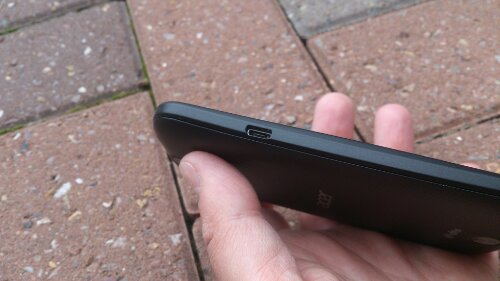 The left side has a microUSB connection, whilst the top has the battery release catch, a 3.5mm audio port and a red power button for waking the device or turning it off / on.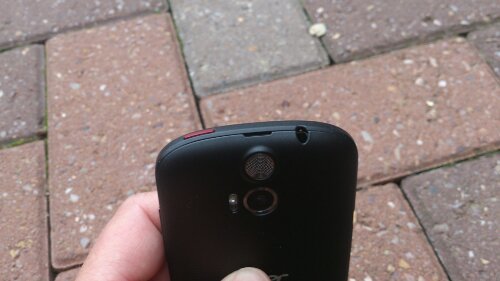 On the right, a silver button for turning the volume up or down and at the back there's those stereo speakers.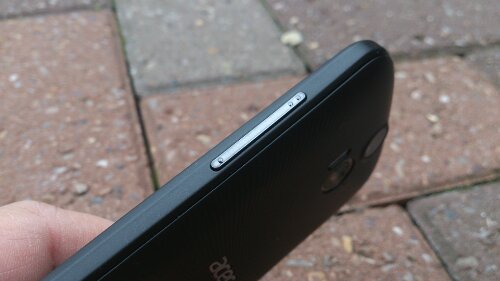 The rear panel is slightly rubberised and also houses the 8 megapixel camera with flash.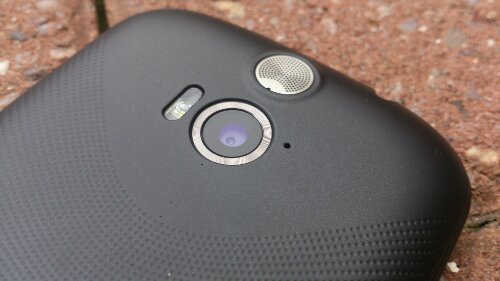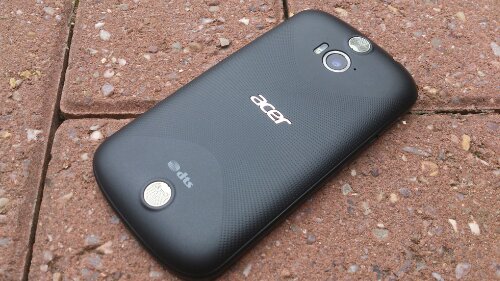 Video overview
Hers our usual hands-on with the phone..
Photos from the camera
The camera is decent enough but, unless you're really careful and get the light balance right, shots will be substandard.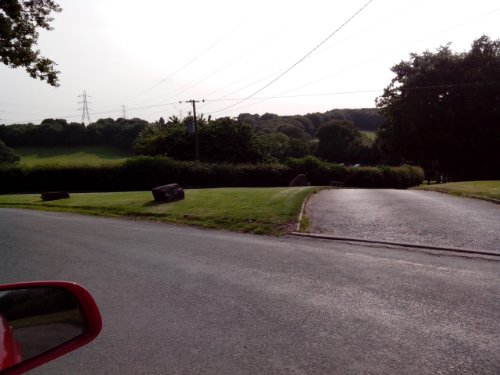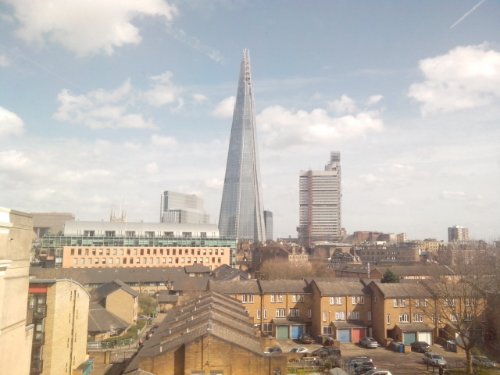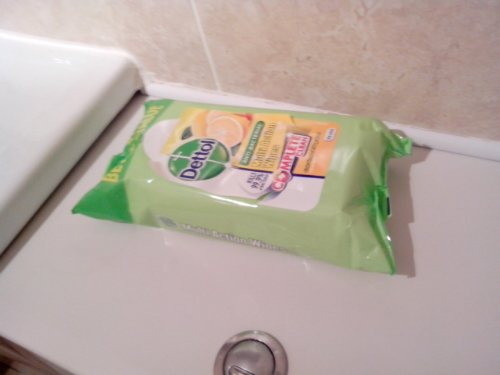 Overall
For the money, this is a pretty decent handset. It's about to be eclipsed by a newer model – the Acer Liquid E2 – but if you can get this cheap enough then it's a decent enough choice. The camera is OK, although in low-light it gets a little tricky to get a good shot and blurriness can creep in.
Under intense use, with lots of widgets and apps running in the background, the dual-core CPU can run out of puff at times. If you keep things fairly tidy it slides along admirably.
The dual-SIM version is definitely the one to plumb for here, as the single-SIM version sits too close to other similarly-priced handsets with better features.