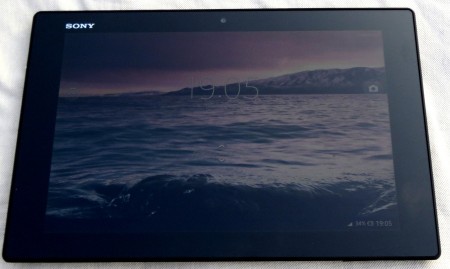 The Sony Xperia Tablet Z is just as much about the hardware underneath the seals and gaskets as the waterproofing itself, so in the second of our series on this £500 beast I'm going to take a look at the hardware and how it performs on dry land.
This review concentrates on all hardware apart from the camera. In depth camera and software reviews will follow soon.
Tech specs
Display: 10.1-inch; LED-backlit LCD @ 1920×1200 (224ppi)
Processor: 1.5GHz Qualcomm Snapdragon S4 Pro (Quad-Core Krait)
GPU: Adreno 320
RAM: 2GB
Cameras: 8MP rear Exmor R sensor, 2.2MP front camera
Storage: 16GB and 32GB
Battery: 6000mAh
Dimensions and Weight: 266 x 172 x 6.9 mm – 495g;
NFC: Yes
FM Radio: Yes
Ports: microUSB, microSD card
OS: Android 4.1.2 with Xperia customizations
Wireless: Wi-Fi 802.11 a/b/g/n – 2.4 and 5.0GHz, Bluetooth, and DLNA (LTE 800 / 850 / 900 / 1800 / 2100 / 2600 on select models)
Design
The first word that came to mind when I opened the box of the Xperia Z was sleek. It's completely black apart from the protruding silver power button and the word Sony in the top left hand corner of the screen bezel and then Xperia in large, thin silver lettering on the flip side.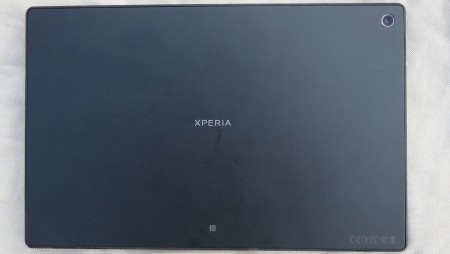 The volume rocker is the only other protrusion from the edges of the unbelievably thin Tablet Z, next to which is a notification LED. There is the IR blaster on the top edge, two little metal contacts on one edge, which look like they're for use with a dock. Stereo speakers are on either side pointing outwards. Everything else is hidden by little flaps designed to keep water out.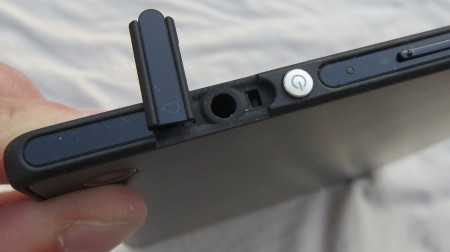 The back of the tablet has a slightly rubbery feel to it. Not like a gel case, more of a surface with a very slight grip to it. Aside from the branding the only other feature is the 8MP camera without flash.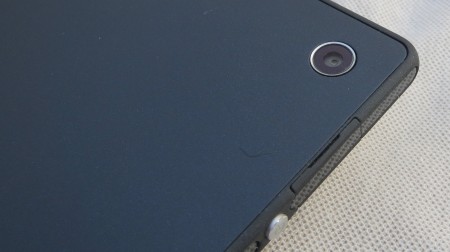 The whole of the face of the tablet is covered in glass, with no hardware buttons at all. Apart from the front 2.2MP facing camera, light sensor and Sony branding in the surround there is nothing but the screen. This adds to the sleek appearance.
So the Xperia looks great when it's turned off, what about when the switch is flicked? Yes, it still looks great, but it's only then that I realised how enormous the screen surround is. One person commented that it looks like a digital photo frame.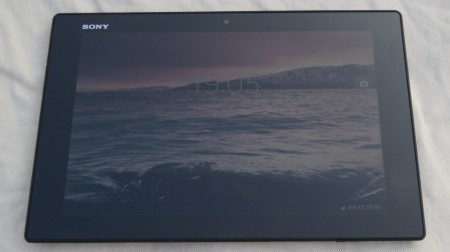 I then noticed that the actual body of the tablet is quite wide (speaking from a landscape point of view). I've pictured it next to a Samsung Galaxy Tab 2 10.1 to illustrate what I mean.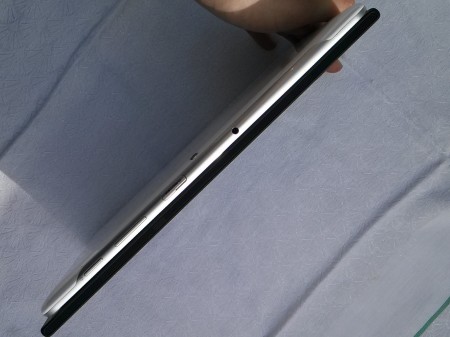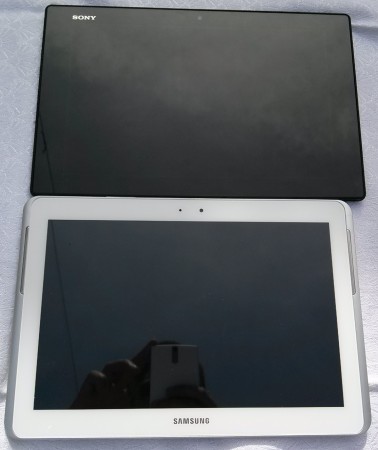 I can only assume that Sony have had to make the chassis bigger to fit a decent size battery in such a slim case. Is this a good thing? Personally, I could live with a thicker tablet to reduce the size of the surround. Others will probably differ.
Build
Let's get the silver pimple power button out of the way now. I like it. Some don't. That is all.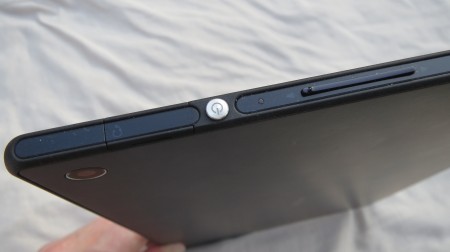 The waterproofing technique for protecting the ports and sockets is simple, self-securing flaps. These are great and very handy in wet conditions, however, having to dig ones nail into them every time the tablet needs charging or the memory card swapping can be a pain. They have to be closed when not in use, otherwise they'd catch and rip off in no time. I would have liked to have seen a method where the flaps could be left open when in a dry environment (which is 99% of the time, after all).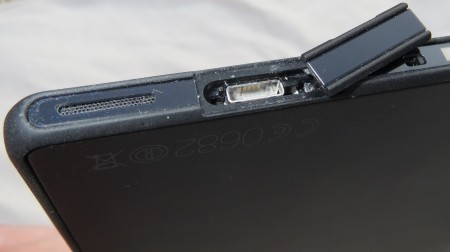 Where the glass front meets the edge there is a slight lip where the waterproof seal lives. Unfortunately this is a bit of a dust magnet, but at least it's washable!
Screen
The display was a concern to me. I'm not alone in being a little disappointed in the screen of the Xperia Z phone, due to its poor viewing angles and lack of vibrancy. The off-straight view is far more important on a tablet as many people use them in stand cases, and often sharing the viewing whilst watching videos, etc. Sony have addressed this issue on the Tablet Z, which is much better. Not perfect, but better.
The LED backlit 1920 x 1200 screen is very bright when needed and can be used reasonably well outside. Colours are rich and lifelike, although whites could be whiter.
Touch responsiveness is just right. I didn't find myself swiping instead of selecting, or having to be overly accurate with button presses. Something I've had on occasion with Samsung Galaxy Tabs.
Videos run nicely, although there's the occasional dropped frame when watching action packed sequences in HD films, such as in Transformers or The Dark Night.
I always use N.O.V.A 3 for games testing, as it has the right balance between playability and demanding graphics. As such I was impressed with the overall first person shooter gaming experience. Angry Birds and Cut the Rope were no problem, of course!
Overall I wouldn't say it was the best screen I've seen, but it's certainly up there.
Performance
The quad core 1.5GHz S4 Pro processor is a known quantity in the smartphone world. It's known because it's powered some of the best devices out there. It's not cutting edge, but it's damn quick. The four Krait cores, backed up with an Adreno 320 GPU and a healthy 2GB of RAM and you've got yourself a beast, right? I'm going to address this in my software article, but even with these components under the bonnet there's still lag when scrolling through home screens with simple widgets on.
This performance issue doesn't transfer to the benchmarks, however, where it scores 20136 on Antutu, slightly higher than it smartphone brethren: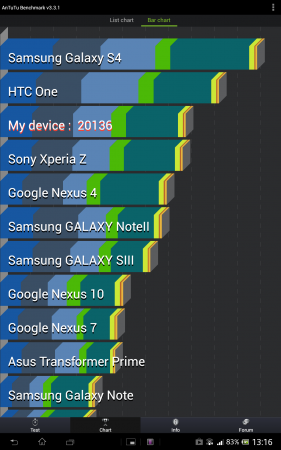 Battery
Battery life is pretty good. I streamed TV through it over wi-fi using the BBC web site for six hours on Sunday with three email accounts checking every five minutes and still had over 30% charge left.
Charging the battery, however, is a mission. Using the Sony power supply it took 7 hours to charge fully from 10%. That was powered off. When I had it turned on with the screen off it took a whole 8.5 hour working day to charge! I don't know if it's the charger's fault or the battery. It really doesn't seem satisfactory though.
Mobile Data
The good people at Vodafone not only provided the tablet, but they also chucked in a 3G SIM for us to play with. I have a Vodafone SIM in one of my phones, so I did a reception comparison, which compared almost identically, in both signal strength and speed.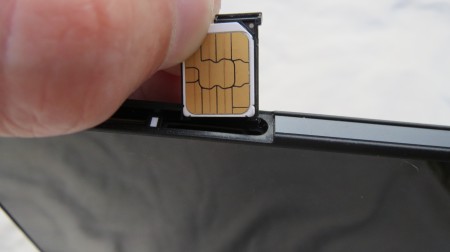 Although the Tablet Z is 4G enabled, Vodafone isn't, so I was unable to test that side of things.
Hardware Conclusions
The Xperia Tablet Z is a heart-breaker. For me, it's the best looking tablet on the market, bar none. The screen is very good and the raw number-crunching power is impressive considering it's not got the latest Qualcomm has to offer.
The battery problems and lag when scrolling through home screens are difficult to ignore, however, and for iPad money Sony are going to have a tough sell on their hands.
Then again, if you're an outdoor type in the great British weather you'll be far happier using this in the rain than any other tablet. Oh, and drop an iPad in the sink like Dan did with our Xperia Tablet Z and it'll be of less use than an Etch A Sketch.
You can find out more, and buy a 4G Tablet Z on the Vodafone website.