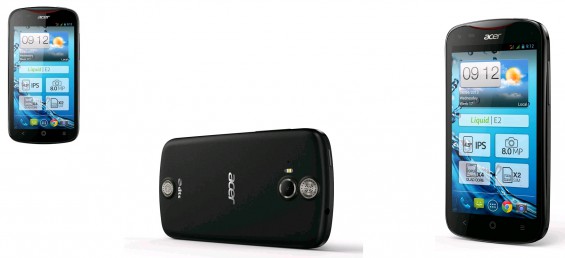 We're reviewing (perhaps better late than never) the Acer Liquid E1 at the moment, so to compare I took a look at the new E2. This has an improved spec and will arrive in the next day or two at Expansys. They're doing it SIM-free, so no contracts to worry about. It runs Android 4.2 Jelly Bean and is powered by a 1.2 GHz quad-core CPU.
Good so far? Well, although there's "only" 4GB of on-board storage you can store your pictures and videos on the external microSD card, snapping away with the uprated 8 megapixel camera (plus another 2 megapixel shooter up front). The screen is a decent 4.5″ 960 x 540 pixels / 245 ppi and you get all the usual Bluetooth / WiFi / GPS and 3.5mm audio port stuff.
So, how much would you expect to pay for this? A quad-core CPU? Decent screen? 8 megapixel camera? SIM free? Try just £179.99. Yep. £179.99 with free delivery. That's actually rather good indeed. Give this one your consideration, because I certainly will be.