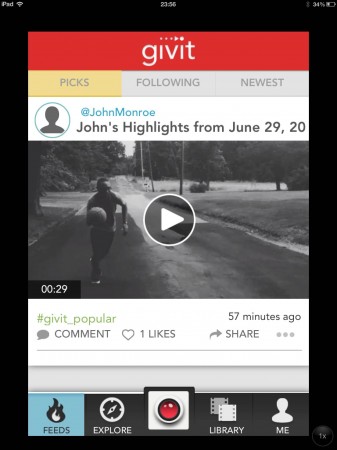 You, you video whore. You love to film everything on your iPhone or iPad. You've got hours of footage and, if you sit down and look in the mirror, you should admit to yourself that only about 20 minutes of it is any good.
So step forward Givit Video Editor. This is an iPhone app which lets you easily and quickly make videos from the footage on your phone.
Not only that, but you can add special effects (there's lots) and music too, just to give your videos that extra wow factor.
Using the thing is easy as flip. Install it and you'll get asked to create a username and password, or you can start using the app by signing in via Facebook. If you choose to share your app then it'll basically give Givit the right to promote your video.
You get to stitch together and create your new video from several videos, or a single one. It's just a matter of selecting your video from the first screen and then start playing. Features include the ability to highlight critical or important bits of your video, adding multiple clips, adding photos and sharing. There's no length restrictions, so you can just dive in and create without limits.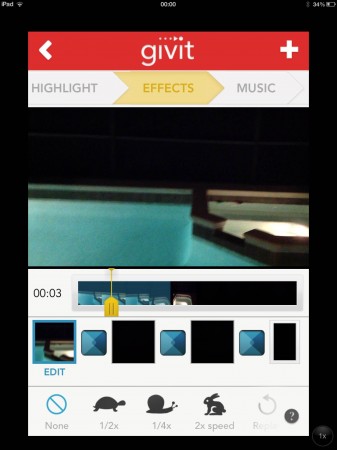 After you've added the effects, you can either share or (through the account you setup at the start), upload your video to the Givit cloud storage.
OK, let's take a quick look. From the first screen we can dive into our Camera Roll and I can choose a video. At all points during your travels there's these helpful little tips that'll pop up during your first use. Very useful this, and it reduces the random clicks. The tips in the gallery below show what you can do and how to do it..
So, you've highlighted the bits you like. Now you can split scenes, duplicate them or delete them. There's sliders so that you can set the start and end of certain frames. Add some effects and transitions. There's cross disolve, jump cut, flip, slow speed and a whole load more.
After you're happy, you can add some music from your phone or from Givit. It's so simple and easy to use, and once you've uploaded your video you can use it as a base to create more videos. You can also record directly from your iPhone camera and save the resulting "enhanced" video back to your phone too.
This app is completely, so I think it's well worth a try. Get it here.