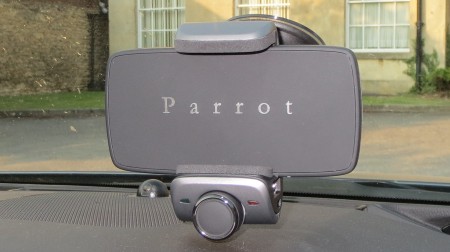 The Parrot Minikit Smart car kit is more than just a mobile phone car dock. It's intelligent, doing the same job as a Bluetooth enabled car. Will the £49.99 price tag save me the hassle of buying that Mercedes with the fancy stereo? Let's hope so!
Good
Looks
Build quality
Chargeable for truly wireless use
Optional extender microphone
Noise cancellation
Bad
Will only fit phone with up to about a 5″ screen
Fiddly to put on
Buttons are too sensitive
What's in the box?
Parrot phone holder and mounting arm, window sucker, adhesive pad (for mounting on a dashboard), car charger, several USB cables, an allen key, and the instruction manual.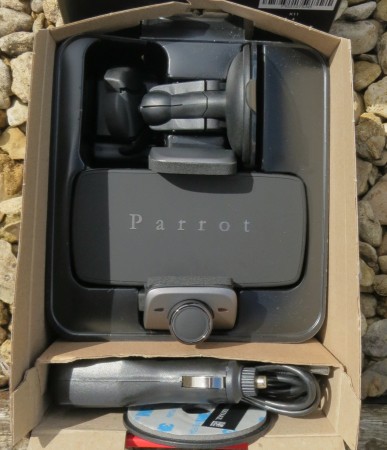 Tech specs
2W integrated speaker
Full duplex
2,000 contacts per phone, with a maximum of ten phonebooks
Advanced Parrot NR2 noise reduction
Echo and residual echo cancellation
Length: 115mm
Width: 89mm
Depth: 46mm
Weight: 180g
Bluetooth v2.1 + EDR
Battery: lithium-ion
Manufacturers quoted battery performance: up to 10 hours talk time and more than 1 week on standby, charged in max 2 hours
Maximum width of phone that can be held: 70mm
Construction
The Minikit is extremely well built, giving a feeling of quality and the confidence that it won't spit your precious phone into the passenger footwell when pretending to be The Stig going round a bend.
The mounting arm is strong and the windscreen sucker holds nicely. On the end of the arm is a socket that the phone holder clips into. There are two buttons that release the holder when squeezed together, meaning that when leaving the car the valuable bit and the phone can be taken, leaving the plastic arm behind. A lot easier than taking the whole mount off each time.
The phone is held between two foam covered, spring loaded jaws. The product description states, "Adjustable holder accommodates most smartphones (most even when they have cases on)", which is true, but if you're one of the growing number of people who own a huge phone you may want to check first. it easily holds an iphone or a HTC Wildfire, even with cases on, but it could only just fit my (5″) OPPO Find 5 in naked, and my Samsung Galaxy Note was just too much of a mouthful.
On one side there is a miniUSB socket for charging, either via a mains charger or the cigar lighter adapter provided, and a full size USB socket that allows a loop through for charging the phone with a stubby cable. The other side houses a microphone on a retractable cable that one can clip to the sun visor or a lapel to give better sound quality when making calls. The back is where the 2 Watt speaker sits.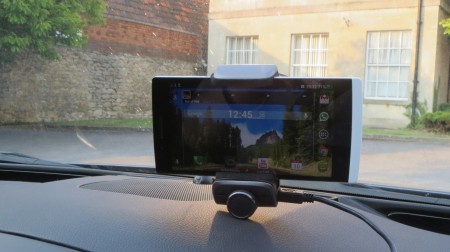 In Use
I mentioned that the Parrot can emulate a Bluetooth enabled car, this is because the main part of the mount contains a microphone, speaker, and enough memory and processing power to store your contacts. Then it can control voice dialing, accepting and rejecting calls, call waiting, last number callback, and even speak directions from Google Maps and third party sat-nav apps.
Fitting was nice and easy, then, after a full charge, the Parrot started speaking to me!
It prompted me to pair my phone, then, once paired, it automatically imported my address book. This can be done with up to 10 different phones, just in case a) you've got a big family, all of which share the same car, or b) you write for coolsmartphone and therefore use up to ten phones at any one time!
I plonked one of my phones in between the foam clad jaws of the Parrot (I know!) and proceeded to make a handsfree call using voice dialling whilst driving. Well, that was easy!
I have had no problems with road noise affecting the usability of the Parrot, however, if I happen to in the future there's a nifty little microphone that's extends out of the side of the holder on a cable which is on a spring loaded coil; pull on the cable and it retracts, just like a tape measure. This works fine, but my one doesn't retract fully, so it takes a little bit of fiddling to put it away again. No big deal though.
Another feature of the on board software is the ability to read text messages. The inflections of a synthetic voice can be quite amusing at times, but on the whole it's a pretty good reader.
There's also the ability to add ones own voice tags, just in case it's having problems reconciling voice commands with its own tags.
Don't like talking to a machine? Well, there's the ability to navigate through a menu system using the volume control, that also acts as a push button. The menu options are spoken by the Minikit as the knob is turned, and a press will select the option. It's a rather clunky way of using it, and not one I'd recommend whist driving!
There are a couple of minor niggles that I feel I should mention: firstly, the method of clipping and unclipping the main unit from the arm can be quite fiddly in practice, so better locating pins are probably required, and secondly, the buttons are far too sensitive; every time I pick it up or put the phone in the cradle the blasted female voice says the word 'phonebook'. I fear I may get conditioned to the word and end up involuntarily throttling a Yellow Pages delivery woman. Still, who uses them these days anyway?
Conclusion
Fifty quid is a lot of money to spend on a car kit, so I expected a lot from it. The build quality is exceptional and the ease of set-up and use was, quite frankly, a surprise. In all honesty, that's the great thing about this kit: it's easy to use.
The only real downside to the Parrot Minikit Smart is the fact that it can't hold a really large phone, so owners of Samsung Galaxy Notes, Huawei Ascend Mates, and the likes will have to look elsewhere.
I've been so impressed that I've decided not to order a Mercedes with a fancy stereo, I'll stick with the Coolsmartphone pool car and see if I can teach the Parrot to swear.
Like cheesey videos? You'll love the Parrot advert then!
[yframe url='http://www.youtube.com/watch?v=-QxJrsCjlkM']
The Parrot Minikit Smart is available from Mobile Fun along with other accessories and chargers.
Thank you to my mate Moz for the use of his windscreen and HTC One X.