We recently spotted in the latest price guide for Three that they had a brand new 'Ultrafast' MiFi which was great considering the last generation one has long gone from stores and for a while we only had the HSPA+ version as an option.
Whilst not a 4G device, the E5756 does have access to the super fast DC-HSDPA network providing speeds up to 42Mbps which is more than enough for most people.
Thankfully we can confirm that from today, the new E5756 'Ultrafast' MiFi is available to order online and will be in stores any day now.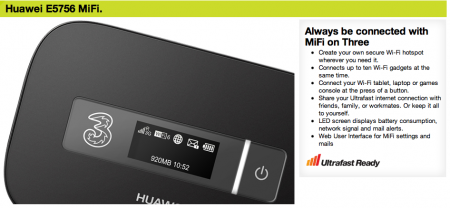 Also on this new MiFi comes the fast you can now connect up to TEN devices at the same time, double the older model which maxed out at five.
You can also purchase on both PAYG and PAYM plans so anyone can pick one of these up at a great price.
Here is the full press release from Three