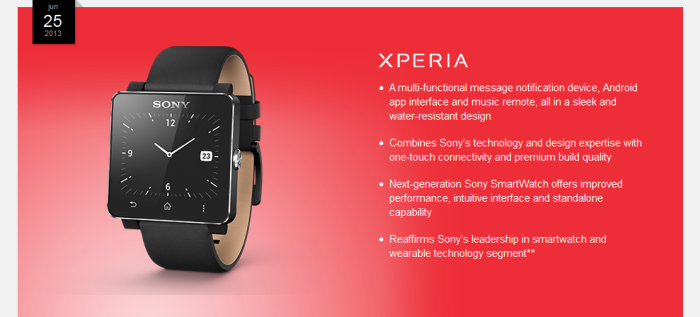 The whole idea of  a SmartWatch seems like a great one, I have never got one myself, I feel I should do, it's just something that just holds me back. This morning Sony have announced their third generation SmartWatch and maybe this will be the one for me.
Stefan K Persson, Head of Companion Products at Sony Mobile Communications had the following to say about SmartWatches and their competitors.
"Sony is the proud leader in the smartwatch market** since introducing our first Bluetooth watch in 2007,"

"Competitors are only now launching first generation devices, while we are already launching a 3rd generation device with all the insight gained from over half a million customers combined with Sony's wealth of technology expertise to create the best ever smartwatch experience."

"The future of wearable devices is incredibly bright with analyst research predicting 41 million 'smart' watches will be sold by 2016," continues Persson. "We have over 200 unique apps dedicated for Sony SmartWatch with over one million downloads to date and we are continuing to work with our strong developer network to deliver ever more compelling smartwatch experiences." 
If you're unsure of what a SmartWatch is Sony have highlighted the main features of their watch.
Download a host of SmartWatch apps and experience a range of unique functions – many of which can even be enjoyed without ever needing to reach for your phone:
Handle your calls by a simple touch of your wrist
Take a photo remotely from your SmartWatch, using a smart camera app
Control your presentations remotely using Presentation Pal
Taking a run or on the bike? Select a mapping app on SmartWatch to check your route with a quick glance at your wrist
Read previously downloaded e-mails when not connected to your phone
Use lifestyle apps like Runtastic to map and instantly track your fitness activities on the go

Quickly and easily adjust the tracks and volume on your music player, without ever taking your phone from your pocket

SmartWatch 2 is also both sleek and reassuringly robust thanks to its water and dust resistant design, giving you the freedom to enjoy it on the beach or simply on the go – come rain or shine.
Not that a watch can have many specifications but here they are
Screen brightness (sunlight readable)
Longest battery life for a smartwatch* (battery level indicator shows low battery warning)
Water-resistant (IP57)
Easy setup (NFC pairing and connecting)
Standalone watch functionality
Standard micro USB cable for charging
User interface similar to Android UI so it is more intuitive
Bigger screen with higher resolution (1.6 inch, 220 x 176 pixels)
High quality materials (aluminium body and stainless steel wristband)
Extended compatibility (works with most Android phones)
Swappable wristbands – personalise with any standard 24mm strap
This watch actually does look nice and being waterproof as well would be useful. No price yet and availability is September.
[yframe url='http://www.youtube.com/watch?v=DoUzM7WYlP0′]