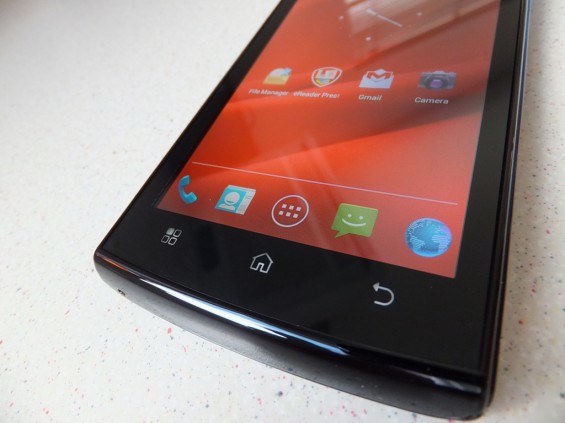 Now and again I like to try something a little different. Be it food, clothes, holidays, new words or just mobile phones. This weeks review is exactly that, something different. Prestigio have been selling tablets for a while now and recently they've branched out into Smartphones. There range is a little sprawling and complex with many different sizes and specs. We've got hold of the DuoPhone 4500 and to start the review good and bad points.
Good Points
Solid build
Nice size
Budget pricing
Dual SIM functionality
MicroSD slot
Bad Points
Plasticy feel to whole device
Strangely partitioned internal memory
Slight lag in various parts of the UI
Normal SIM size (large)
Strange Roaming feature in SIM setup
Camera struggles in certain situations
Design
The DuoPhone 4500 is a solid and fairly weighty device, made entirely with shiny black plastic. It does feel solid though I guess the subframe is solid. There isn't any flex it's just solid, surprisingly so.
The front of the phone is pretty nondescript bearing no branding and only really a menu, home and back button. The bezel is fairly sizeable and the screen is an absolute fingerprint magnet. The front does also have the front facing camera and a nice grill style earpiece.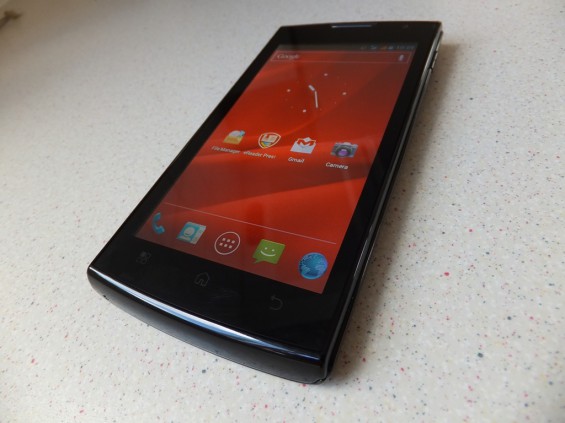 The bottom of the device has a microphone hole and nothing else.

The left hand side has a volume rocker which sort of sits into the backplate.
The right hand side has the power button which again sits into the backplate.
The top edge has a Micro USB port and the headphone socket.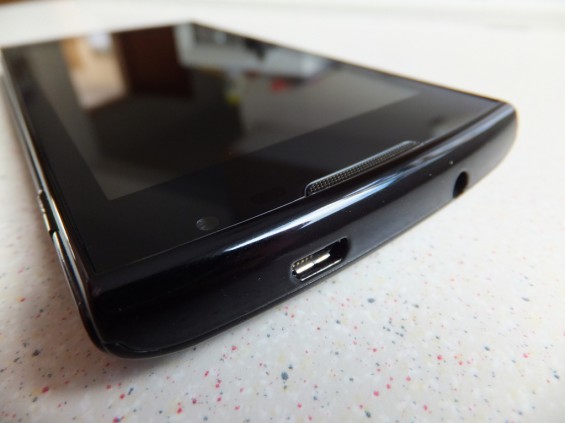 The back of the device is possibly the most interesting as there are a few features.
Firstly the 8MP camera and the flash are on the back, the camera is quite chunky and protrudes out of the back by about 1.5mm which means without a case you could scratch the lense. The speaker is on the back bottom left hand side as well. The backplate also bears the only Prestigio branding.
Hardware
Spec wise the MultiPhone 4500 is on a par with something from a few years back
DISPLAY – Size 4.50″,540×960 (qHD), IPS, 16M Colours, Gorilla Glass
PROCESSOR – ARM Cortex A9 Dual Core (MediaTek MT6577T), 1.20 GHz Dual Core
RAM – 1 GB
Memory Card – Micro SDHC, Micro SDXC
Operating System Version Android 4.1
CAMERA – 8.0 Mpixel, Autofocus, Flash, Front Camera 0.3 Mpixel
Bluetooth 3.0 + HS
NETWORK – GSM 1800, GSM 1900, GSM 850, GSM 900, WCDMA 2100, WCDMA 900
Protocols – EDGE, GPRS, HSDPA
Dual Sim
DIMENSIONS & WEIGHT – Height 135 mm, Width 69 mm, Depth 9.6 mm, Weight 158 g
BATTERY – 1850 mAh , Lithium Ion Polymer
Highlights include the MicroSD Slot, Removable battery, Dual SIM, 1GB RAM. The Dual SIM allows one SIM to connect to HSDPA and one to GSM networks, it is slightly awkward having only one SIM with data. The screen is one of those screens that get absolutely covered in fingerprints after a few minutes. You'll regularly need to clean it.
The Internal Memory is classed as 4GB but in reality this means two partitions, one about 500MB which is where you are allowed to store apps and a 2nd partion of about 2.8GB which is for user data, the rest will be system info. After the JellyBean update this was even worse with only 214MB available for app storage, mainly as the JellyBean ROM added allsorts of Google Services. There is an option to install apps to a memory card built in but this isn't ideal. The whole memory should be available for the user to decide what to put where.
Benchmark wise here are the results, which put it mainly around the Samsung Galaxy Nexus.
Antutu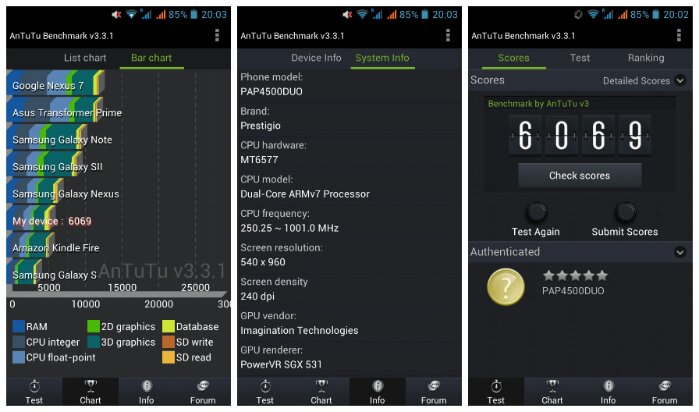 Quadrant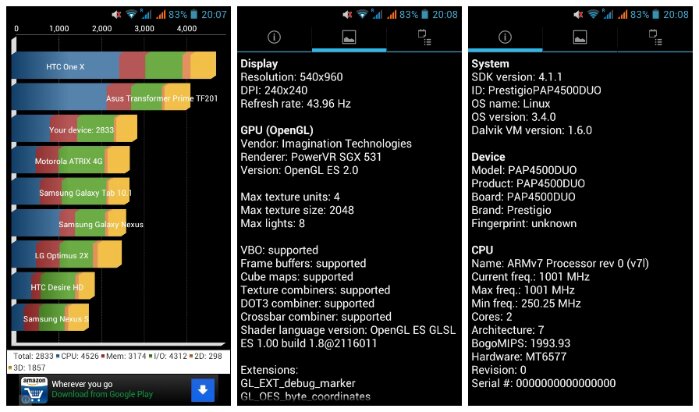 Some info from CPU-Z if you like that sort of thing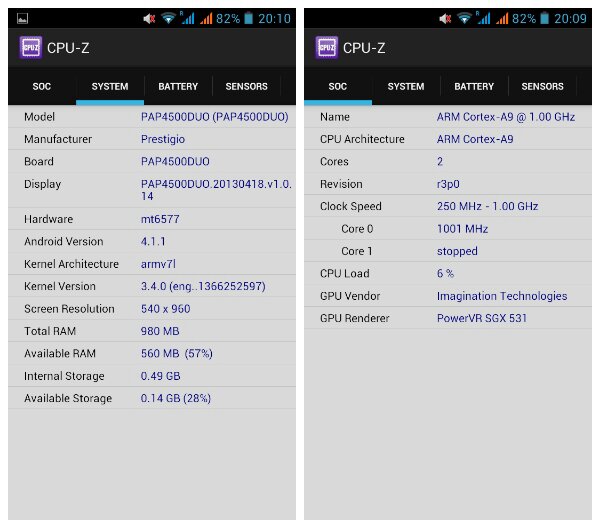 Software
The MultiPhone 4500 runs Android 4.1.1 which means that the latest apps will work and you'll get Google Now and Project Butter. The 4500 actually came running Ice Cream Sandwich, an OTA update was available, although I could only download it to a memory card, this just fixed a few bugs. Whilst looking for the spec sheet on the Prestigio website I found an update for Jelly Bean, which had to be installed manually via the built in recovery console. Apart from some confusing instructions it all worked and I had nice new Jelly Bean phone. It is a basic stock Android build with a few tweaks. Here are the details of the added extras.
Pre installed apps
There are a few pre installed apps that don't really offer much, Prestigio's own bookstore is present along with a file manager, flashlight, FM Radio, Gameloft Live, Prestigio Installer to install more Prestigio stuff, Media 3D which is a homescreen widget for weather & OfficuSuite.
Themes
There are four themes available which change the colouring of certain elements within the UI. Pretty basic and not really deep rooted enough to be useful or aesthetically pleasing.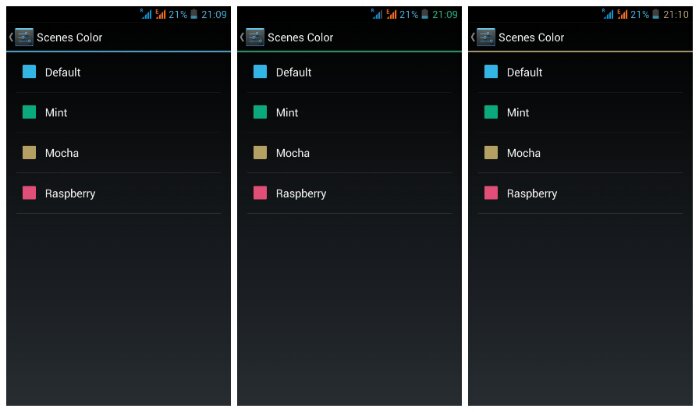 The Lockscreen
The lockscreen is similar to the standard Ice Cream Sandwich lockscreen but you also get phone, SMS, unlock and camera.
Also at the very bottom of the lockscreen you get media controls. The changes made to the lockscreen are really quite useful.
Notification drop down
Prestigio have added some toggles to the drop down allowing you to quickly turn off or on various things like WiFi. It's a useful addition as seen on many devices over the years.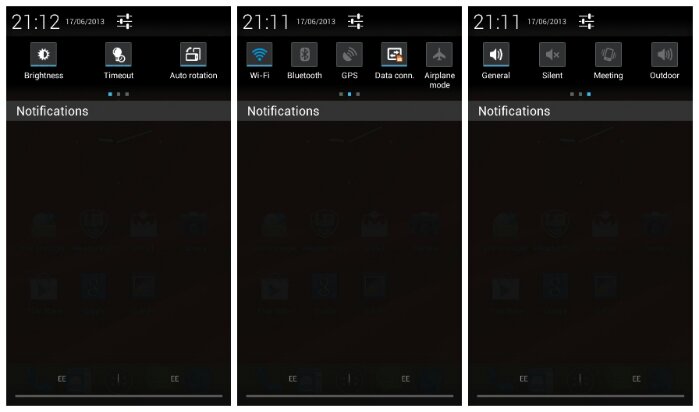 Dual SIM functionality
The Dual SIM software built into Android is really quite intuitive. Allowing you to choose which SIM handles calls and which handles messages.
Overall the extra software makes the device more functional, the dual SIM section of the device is really useful although it doesn't come with problems. I'll get to the problems now.
As the 4500 has origins in Russia or possibly China where it was built, the fact it might be used in the UK has been sort of overlooked. In the main you can select the main language as English and choose English as the input language. But the firmware tied to the network connectivity sees UK data connections as roaming. So to get the data SIM to work you have to enable data roaming and you then get an "R" instead of "3G" or "H". Just me being picky but annoying none the less. Whilst playing about in the network settings I realised that one SIM was GSM only so you have to choose beforehand which SIM to use for data.
The camera is a pretty basic 8MP unit, it struggles in low light, bright light and close up shots. In the right conditions it takes ok pictures. The camera has a HDR mode which just screws up photos.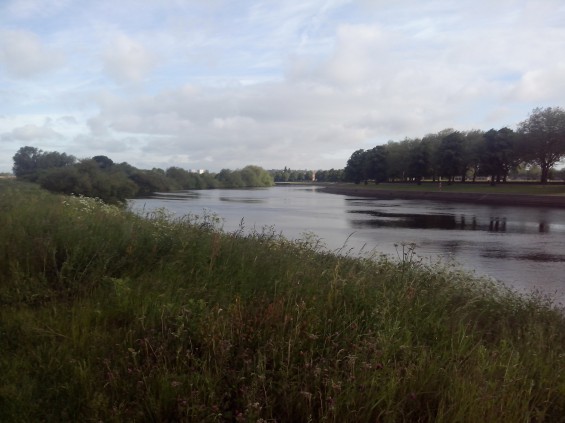 Then a similar shot into the sun.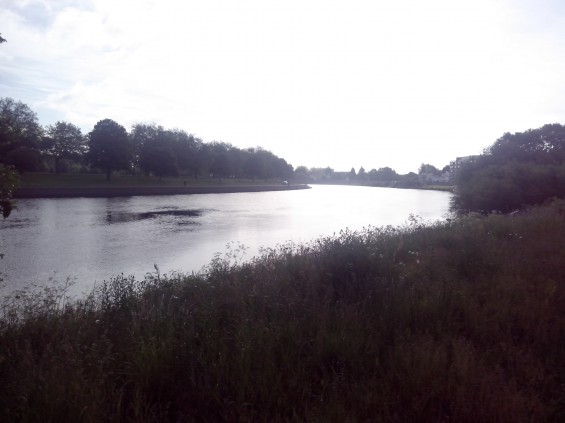 Now a few other random photos
So as you can see, with the right light and HDR firmly turned off you can get some ok pictures.
As the 4500 has a memory card you can use it to store music and I found the sound quality to be pretty average, lacking any depth to the bass. A good fiddle with the graphic equaliser is required. Although that only solves the problem partially.
Conclusion
Overall the Prestigio 4500 is well built phone desperately in need of further software updates to fix the odd roaming SIM behaviour. Software updates can only fix so much though. The hardware behind the camera and the sound quality cannot be fixed. For the price though something always has to give. Lastly a big thanks to Clove got lending us the Prestigio, it is available here in either white or black for £178 inc VAT.
Prestigio Mulitphone 4500 Duo - Review
Design - 6.5
Hardware - 6
Software - 5
Camera - 4
5.4
Well built solid phone with handy Dual SIM functionality, let down badly by software, camera and sound quality.