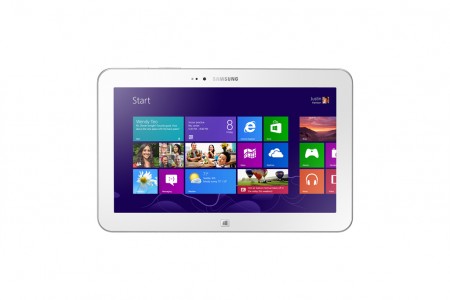 The already strong Samsung tablet range has expanded today with the addition of the ATIV Tab 3, a Window 8, 10.1 inch device with an Intel ATOM processor and 64GB hard disk. Samsung boast that this is the world thinnest tablet at only 8.2mm.
ATIV Tab 3 Product Specifications
Display: 10.1 inch HD 1366×768
Window 8
Processor: Intel ATOM Z2760
Memory: 2GB LPDDR2
Hard Disk Drive: 64GB eMMC
Camera: 720p HD
Battery Life: 10 hours
Dimensions: 8.2mm thick
Weight: 550g
Colour: White
1x micro USB 2.0, micro HDMI, micro SD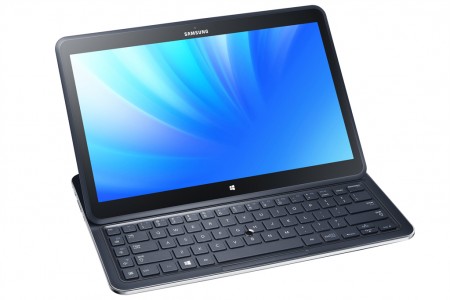 But that's not all, there's the ATIV Q, a hybrid tablet that has a keyboard and runs full Windows 8 AND Android! Yes, this thing runs both operating systems and lets you transfer files between them via shared folders.
This does look like an interesting beast, seemingly taking the best bits of a Surface and marrying them with a 13.3 inch Android tablet. Oh, and take a look at that resolution: 3200px x 1800px. Priced correctly this is going to be awesome.
ATIV Q Product Specifications
Display: 13.3 inch 3200×1800, 275ppi
Windows 8 and Android 4.2 Jelly Bean
Processor: Intel Core i5
Intel HD Graphics 4400
Memory: 4GB DDR3L
Hard Disk Drive: 128GB SSD
Camera: 720p HD
Battery Life: Up to 9 hours
Dimensions: 327mm x 217.8mm x 13.9mm
Weight: 1.29kg
Colour: Ash Black
1xUSB3.0, 1xUSB2.0, micro HDMI, RJ45 (dongle), HP/Mic combo, micro SD
Find out more about the ATIV Tab 3 here
Find out more about the ATIV Q here
Just to complete the details on the Samsung launch, even though they're not really within our remit: we were also shown two touchscreen laptops the ATIV Book 9 Plus and ATIV Book 9 Lite, and an all in one touchscreen desktop known as the ATIV One 5 Style.