Nokia Lumia 925
Design - 8
Hardware - 9
Software - 9
Camera - 7.5
8.4
A great device from Nokia stating their intent to be a player in the mainstream.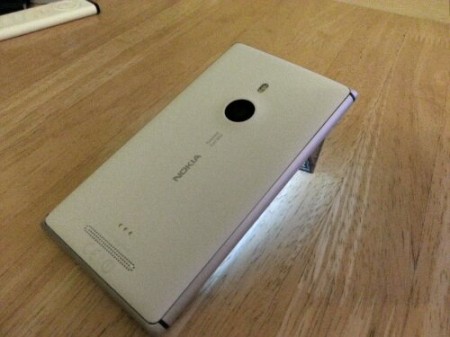 Well the time is finally here. I've got chance to review the brand new Lumia 925. I have been waiting for this phone for a while and I'm very happy to bring you this review.
I have already given the hardware a thorough going over in my unboxing and first impressions article posted earlier this week. For those who missed it you can view it below. For everyone else the hardware is awesome and it is a clear statement of intent from Nokia. They're definitely stating "Look we are here and we want to play at the big boys table again".
Here is the unboxing video again
[youtube http://www.youtube.com/watch?v=_gfHsfAvdSo?feature=player_embedded]
A couple of shots of the phone emerging from its transportation capsule (box)
Lumia phones all run the same software in the form of Windows Phone 8 and here it's no different. There are some additions to the software, namely the "Here Maps" with Live View, Data Sense, Storage Check and Nokia Smart Camera. These help to make the Lumia 925 a real world option for the average consumer as there is very little that it doesn't have in comparison with some of the Android competitors.
Here Maps with Live sight
Another area where Nokia have tweaked and improved an existing offering is in those Here Maps with the addition of "Live Sight". In essence it uses the same AR tools as Here City Lense uses. It allows you to hold your phone up and see various POI's by moving the phone around. The big difference is that it can now be accessed from the Maps application.
Once you find something you want then you can use it get walking directions to that POI from the Here Maps app. So this is an app that quite literally meets the Lumia 925's advert tagline of "More than your eyes can see" as you effectively see through walls.
It is a nice feature and is clearly challenging the Google Streetview feature but I do think that it is a bit more useful. It certainly helped this intrepid idiot get around the vast urban playground that is Londinium. In fact the whole Here proposition was extremely useful during that recent trip as it meant that little old me from Glasgow didn't get lost in the maze that is the Tube.
Data Sense and Storage Check
But back to the matter in hand.
Data Sense.
Not much to cover here as it is a very simple way of tracking and controlling your data use. It works well and is a very welcome addition particularly now that networks are trying to squeeze every last penny from the customers on their data usage.
Finally, Storage Check. This is not really app as such but nevertheless welcome as it allows one to keep an eye on ones memory availability. It is very easy to use and has a great interface making it clear you can also clear out temporary files if you don't think you need them anymore.
All of these apps are in addition the usual Nokia fare of the full Here suite and also Nokia's incredible music service. I think that the additions that Nokia makes to WP8 do genuinely enhance the experience overall. I have got one annoyance though, and in my opinion it's inexcusable for a smartphone these days.
I use Google for all my PIM management as I have been a long time Android user. Now, although WP8 can allow you sync all your details through Google such as new contacts etc, it doesn't allow for subscribed calendars. This is due to Google and MS essentially falling out over Google Sync which is a rubbish state of affairs for the end user. Fortunately for us dear reader there is an App that has saved the day Chronos Calender which will pull your subscribed Calendars through to the phone without an issue.
Phew, disaster over.
Nokia Smart Camera
This app allows the user to get brilliant photos from average shots with some post processing magic. Various different editing tools are available to facilitate this and these tools were previously available in the form of "Smart Shot" for other Lumia owners. You now have five editing tools available.
Best Shot- Picks out the best picture by assessing the whole image.
Action Shot- Allows you to merge several images together to create a sense of action in the image.
Motion Focus- this allows you blur the back ground giving the impression of speed and movement.
Remove moving objects- simple one this removes objects from the image.
Change faces- this allows you to change faces in the picture to one that suits your needs better
The way it does all of the above is by taking 10 pictures @5mp resolution at a rate of 4fps. These images can then be melded together by the user to create their desired finish. It is genuinely easy to use and enjoyable. I am definitely a good test of this as this post editing of picture was something that I didn't see any point in until now. The Lumia can be used to improve what would have traditionally gone onto the trash pile.
Now all of this is made possible via the Pureview camera that Nokia have put into the back of the phone. Though this tech is not new it is an improvement over it predecessor, the 920. The addition of a 6th lense helps to improve the capture of shots in daylight. It also still has the floating lens arrangement of the 920 using the same Optical Image Stabilisation too.
What does this mean for Joe or Joanna Public? Well, clearer picture and videos due to less camera shake.
So next time you have a bit of a wobble on, at least your pictures will be clear (What will Mr BlurryCam do now?)
Your standard shooting mode for the Camera will capture pics at the full 8.7mp with a 16:9 aspect ratio and it will record in 1080p if selected with 720p being the standard option.
Here is a sample of the Video recording
[yframe url='http://www.youtube.com/watch?v=zNpKX8tovUE&feature=youtu.be']
Here are some pictures as examples and some comparison shots against the Galaxy Note 2 as that is the closest one I have to Lumia in terms of megapixels.
Lumia 925 Shots
Galaxy Note 2
Conclusion
This is a hard one for me really as I do really like this phone and I am at a crossroads with regard to my mobile and what I need from it. So for me I have to say I am really enjoying using the new Lumia 925 and I look forward to continuing to for the foreseeable future.
I also think that for someone who wants a premium phone but is not mad for getting all the latest games and apps etc, the 925 is a brilliant offering and one that you would really enjoy.
I also think that the entire Lumia range is a brilliant point of entry for those who are new to the smartphone world as it incredible easy to use. I will not, however, be entering into the whole Windows 8 ecosystem yet, as I don't think that I am quite ready to give up on my Mac yet….
Here is a Gallery of all the shots used for this review
The question that I have to ask though is this really going to be enough to stave off those who are waiting for the true Pureview from Nokia which lets face we all now is coming very soon. I think we will just have to wait and see on that front…..