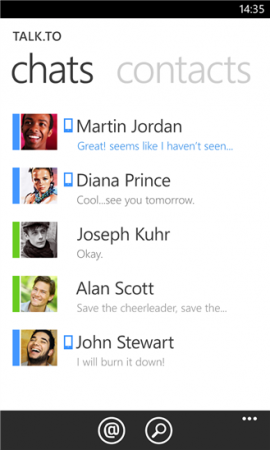 Talk.to is a free Windows Phone IM client for Google Talk, Facebook Messages and SMS in US, Canada & India, as well as being its own messenger platform between Talk.to clients.
The Windows Phone version has just been updated to become the first free IM client that does lockscreen notifications, allowing you to see at a glance if you have any new messages.
The app also now allows you to draw and send doodles, so you can scrawl away to your heart's content & burden everyone else with your creations.

It all seems to work pretty well, easily enhancing the poor Facebook messaging functionality that is currently available on Windows Phone, as well as giving a good quality free Google Talk offering – which is still rare on Windows Phone.
Definitely worth trying – it is free after all.
Talk.to is also available on Android and iOS, as well as desktop versions for Chrome, Windows and Mac.
Link – Talk.to in Marketplace
Source – Winsource.com