T-Mobile UK have had a Windows Phone app for a while now, I gave up using it a long time ago. It was too buggy and packed features. Well today might be the time to just reinstall it. As they've pushed out an update to fix various bugs.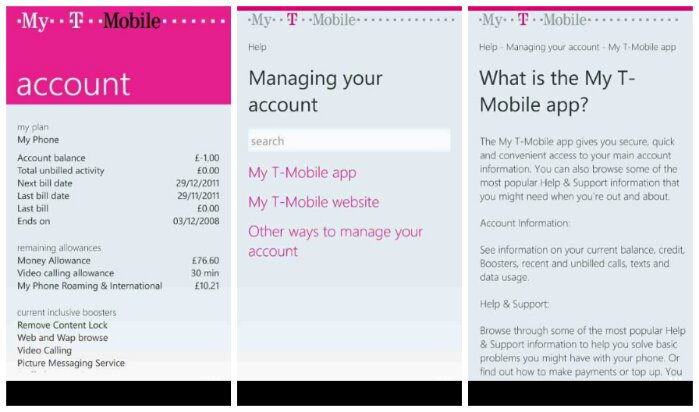 Stay up to date with your T-Mobile account from pretty much anywhere including over Wifi. If you're a pay monthly customer:- check your account's current allowances (minutes, texts and boosters)- check the amount of your last bill and see when you're due to pay- manage multiple accounts – even those with multiple phone numbers- set your own PIN so you don't have to enter your username and password each time you use the appIf you're a pay as you go customer you can check your current creditIn order to use this app, you will need to register for My T-Mobile first at www. t-mobile.co.uk/service/your-account – it's free and you only have to do it once. If you've already registered for My T-Mobile online, just use the same username and password to log in to this app.Please remember that if you use the My T-Mobile app when you're outside the UK, roaming data charges will apply.
The updated app supports Windows Phone 7 and 8 which is always nice to see. Also there isn't a data counter to help with T-Mobile UKs confusing data limits. Oh well, maybe next time.
Windows Phone Store Link – T-Mobile