This is the second article in the series of Coolsmartphone's favourite apps for Windows Phone.
I switched to Windows Phone 8 (an HTC 8X) from Android in December, and at the time I wasn't sure I would last, but I have to say I now love Windows Phone and have completely discarded Android.
One thing about Windows Phone though, is you sometimes (ok often!) have to seek out different apps to those you would have used on Android, so what have I found?
Gooroovster 
Microsoft and Google don't exactly see eye to eye, and whilst Google have found a new love for iOS, they're definitely not doing the same for Windows Phone at the moment. As a result 3rd party apps fill the gap, and Gooroovster is a brilliant Google Music client. In fact, it's my favourite Google Music client on any platform.
The app integrates with the music hub in Windows Phone, so you get background art when you play things and a lovely metro interface. It also has full playlist creation and management, which is still inexplicably missing from the Windows Phone's built in music player.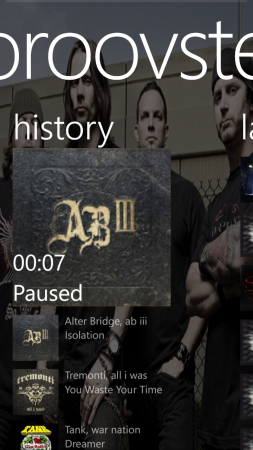 Feature wise the app has everything a Google Music client needs – speedy access, search, recently added songs and offline caching of tracks with proper management (you can remove individual downloaded tracks as well as playlists & albums).
I've been testing the app in beta all year, and it's now highly accomplished and deserves to be a great success now v2 has been released. The developer also isn't resting, and v2.2 has already been submitted to the Marketplace (bringing last.fm scrobbling & artist bio features), and will probably be live tomorrow.
Have a look at some screenshots below and grab the app from the link underneath.
Link – Gooroovster in Marketplace
Disqus 
Now this is a rarity – a Windows Phone exclusive app.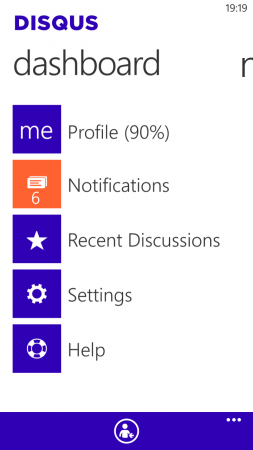 Disqus is a comments system that many sites use, including Coolsmartphone.com. Being an independent system, users have the ability to interact with other commenters across any sites that use Disqus – a commenters network if you like.
Previously all web-based, the team at Disqus have now released their first app, to make things easier on your mobile – and Windows Phone is the first platform to get it.
You log in to your Disqus profile, and you will be able to see what you have commented on, if people have replied and follow other commenters. The app gets a Live tile with notifications, so you are alerted if someone replies to your comments or if people you follow have commented.
It's all very slick and very useful on your mobile, as it's not always that easy following a thread of comments through a mobile browser.
Link – Disqus in Marketplace
So those are my first two Windows Phone app recommendations. There will be more to follow, but if there's an app you haven't been able to find for Windows Phone do let us know – we might just have stumbled across something you'd like.