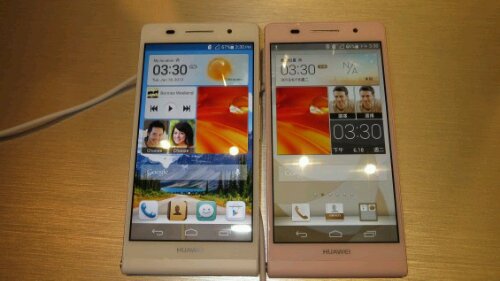 You've seen our hands-on pictures and videos, you've checked the specs and now you have "like a G6" going around your head even though it's a P6.
Either way, if you'd like a P6, Carphone Warehouse will be making them available on pre-order for just £21 per month.
Made from an aluminium frame and powered by a 1.5GHz quad-core CPU, the P6 has a 4.7″ screen which will work even when you've got your gloves on.
The £21 per month deal mentioned here only includes 100MB of data (and unlimited texts plus 100 minutes talk-time) but there is unlimited data available through a T-Mobile plan which also adds 500 minutes talk-time and unlimited texts for just £27 per month, which isn't half bad.
The P6 also includes two cameras – an 8 megapixel at the rear and a 5 megapixel (yes, 5) at the front. It's powered by the Android 4.2.2 OS and has a 2000mAh battery but still measures in at just 6.18mm thick and weighs about 120g.
[Showhide]
Carphone Warehouse goes to pre-order for the Huawei Ascend P6
http://www.carphonewarehouse.com/news/latest-news/huawei
LONDON, 19 th June 2013, Carphone Warehouse has announced that the brand new Huawei Ascend P6 is available for pre-order from £21 per month*. Unveiled yesterday, the Huawei Ascend P6 measuring at just 6.18mm is the world's slimmest ever smartphone. The handset will be available from Carphone Warehouse in July across all networks.
Weighing just 120g the stylish handset is small enough to slip into the tiniest of pockets or clutch bags. Despite it's small size, the Huawei Ascend P6 is incredibly strong and durable. It's built with an aluminium alloy frame and back cover, and a tough Gorilla Glass 2 screen is tough as they come. With a huge battery, cameras front and back and a lightning fast 1.5GHz quad core processor, it's everything you need in a fashionable smartphone.
Carl Cowling, Group Commercial Director for Carphone Warehouse coments, "Huawei is one of the biggest mobile phone brands in China and with their recent handset launches they have certainly proved they are a brand to be reckoned with in the UK. We're definitely begining to see a trend of more mid to low tier smartphones being introduced to the market by brands like Huawei and ultimately this means more consumers will be able to get their hands on the latest technology but at a price that suits them. We know that our customers are spending more time comparing handsets to get the best value and as we are the only retailer to offer all the networks we know we have the best deals out there."
Packed with the latest technology and features, the Huawei Ascend P6 comes boasts a 1.5GHz quad-core processor, Android Jelly Bean operating system, long lasting battery, 4.7-inch HD LCD screen technology, and the exclusive 'MagicTouch' feature for enhanced screen responsiveness even when wearing gloves.
The Huawei Ascend P6 will be available from Carphone Warehouse in black, white and pink in July across all networks. For more information on the Huawei Ascend P6 please visit http://www.carphonewarehouse.com/news/latest-news/
[/showhide]